After a year and a half of work, we are very proud to bring you the EASY sofa! This sofa is a complex object in terms of its design. So we decided to get you involve and ask your opinion on several points, in order to create the perfect TIPTOE sofa. For you, the ideal TIPTOE sofa is a minimalist sofa, made of fabric, comfortable, beautiful and must be long-lasting. The ideal sofa is also one that is easy to maintain, with removable coverings, all 100% made in Europe.   The EASY sofa meets all these criteria! Below we reveal the last few details before its release in July 2021.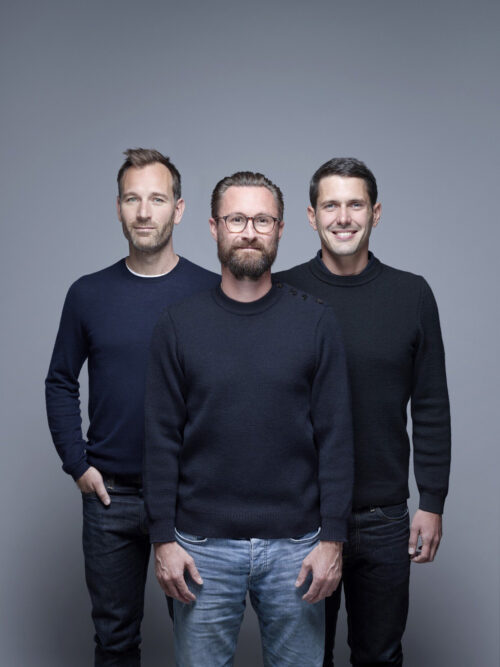 Close collaboration with design studio BIG-GAME
For the first time since the beginning of the brand, we have chosen to work with designers outside TIPTOE. We chose BIG-GAME, the renowned design studio founded in Switzerland, in 2004, by 3 designers: Augustin Scott de Martinville, Grégoire Jeanmonod and Elric Petit. This studio describes its work as simple, functional and optimistic. Together they create a wide variety of products and accessories for various brands. The studio has received numerous awards, including the Swiss Design Award, the iF design award, the Wallpaper Design Award and the Good Design Award. BIG-GAME's creations have found their place among collections at the Centre Georges Pompidou in Paris and the MoMA in New York. The designers on team TIPTOE and BIG-GAME worked as a tight-knit group: BIG-GAME worked on conceptualising and designing the sofa while the TIPTOE team oversaw the industrialisation phase, chose the fabrics, the colours and suppliers.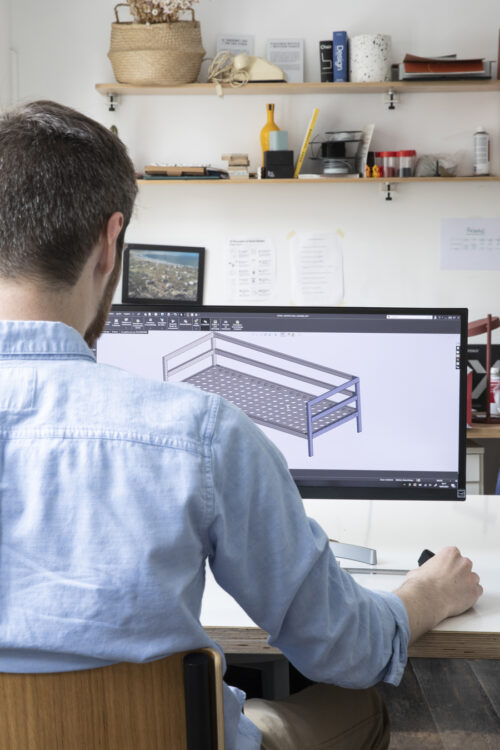 Environmental responsibility at the heart of the EASY sofa
The EASY design was born out of the desire to create a sofa that is beautiful and user-friendly: easy to deliver anywhere, easy to assemble, easy to repair or recycle at the end of its lifecycle. As always, the TIPTOE team has put environmental responsibility at the heart of the project. EASY is a sofa that has been designed to solve the main ecological problem of this type of furniture: recyclability. Today, the products on the market today are mainly composed of wood, foam and fabrics that are put together in a definitive way using glues and staples, making them extremely difficult to disassemble. EASY, on the other hand, is composed of single-material parts that can be easily separated from each other in a matter of minutes (steel frame, foam and fabric). Its fabric comes from Gabriel, one of the most prestigious Danish companies in the world, and is made of polyester composed of more than 75% recycled water bottles. Finally, its steel structure is extremely solid, while its cushions made of recycled flakes and its foam seat are easily removable and replaceable, thereby extending its lifespan indefinitely.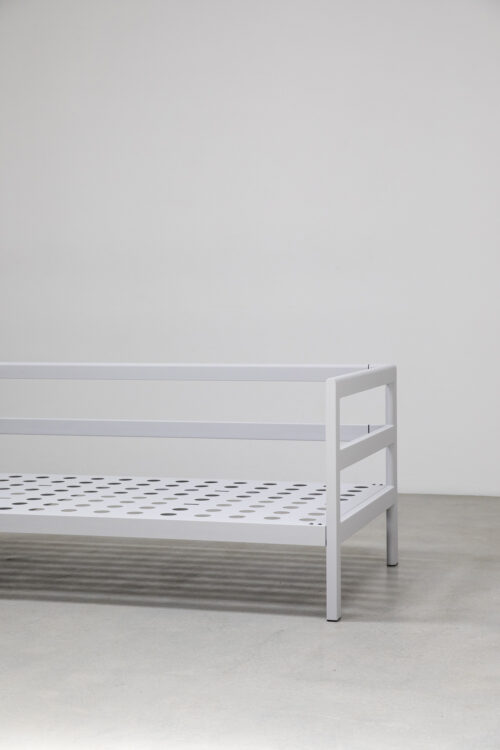 Structure of the sofa
The structure of the EASY sofa is made of powder-coated steel, like most TIPTOE objects. It is the most recycled material in the world and infinitely recyclable. Steel also allows for a rigid structure, and therefore a sofa that will stay with you for many years. It was designed to be quickly assembled but also easily dismantled as need be. The steel frame contrasts with the sofa's inviting cushions and allows for a playful colour schemes. The coloured steel frame is very identifiable and echoes the simple and elegant TIPTOE DNA. Made in Bulgaria, the steel frame of the sofa is delivered in 3 packages, which allows for very quick assembly.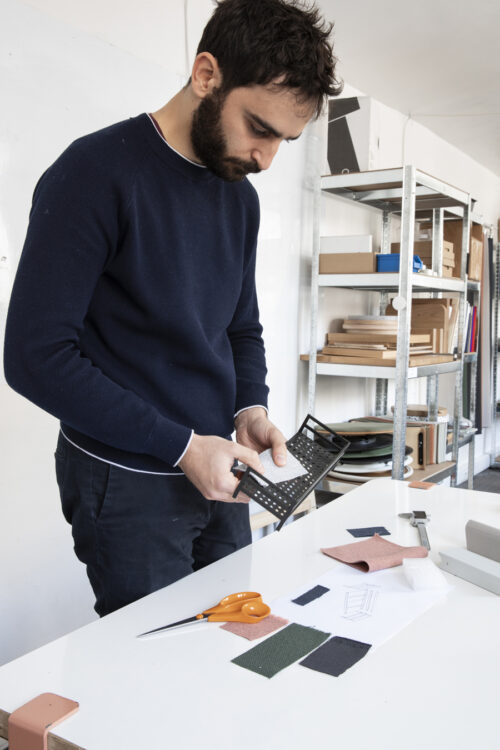 Choice of recycled fabric
Once again, we chose the fabric made by Danish company Gabriel, it was an obvious choice after having used it on the SSD Soft chair. Gabriel is a leading figure in furniture fabrics, a reference in terms of quality and durability since 1851. We chose two types of polyester fabric recycled from bottles, one at 75%, the other at 98%. They are both certified STANDARD 100 by OEKO-TEX, which guarantees that the fabric is safe for the health of the user and the environment. They have a very high resistance to wear and tear, and are therefore also suitable for professional use (60,000 and 100,000 Martindales), they also comply with international fire standards. One of the fabrics is even certified with the EU eco-label (official eco-label of the European Union to help consumers choose more responsible products). The main advantage of these cushions is that the covers can be easily cleaned by machine washing at 40°c. The covers and fabrics are made in Lithuania.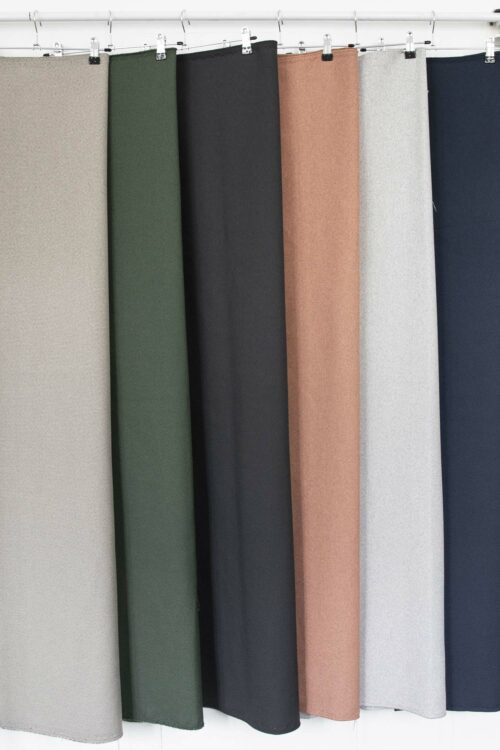 Carefully selected colours
The choice of colours is a very important step for TIPTOE, it is very important to keep our DNA as colourful as it is timeless. So we chose 6 bright, soft or sober colours that match two timeless frame colours, Graphite Black and Austral (Southern) Grey
Slate Gray, a dark, almost black gray
Mottled (Heather) Grey, a luminous grey
Sand Beige, a soft colour
Mottled (Heather) Pink, a sober pink
Midnight Blue, a deep blue
Forest Green, a strong green
These colours go very well with the rest of the TIPTOE collection.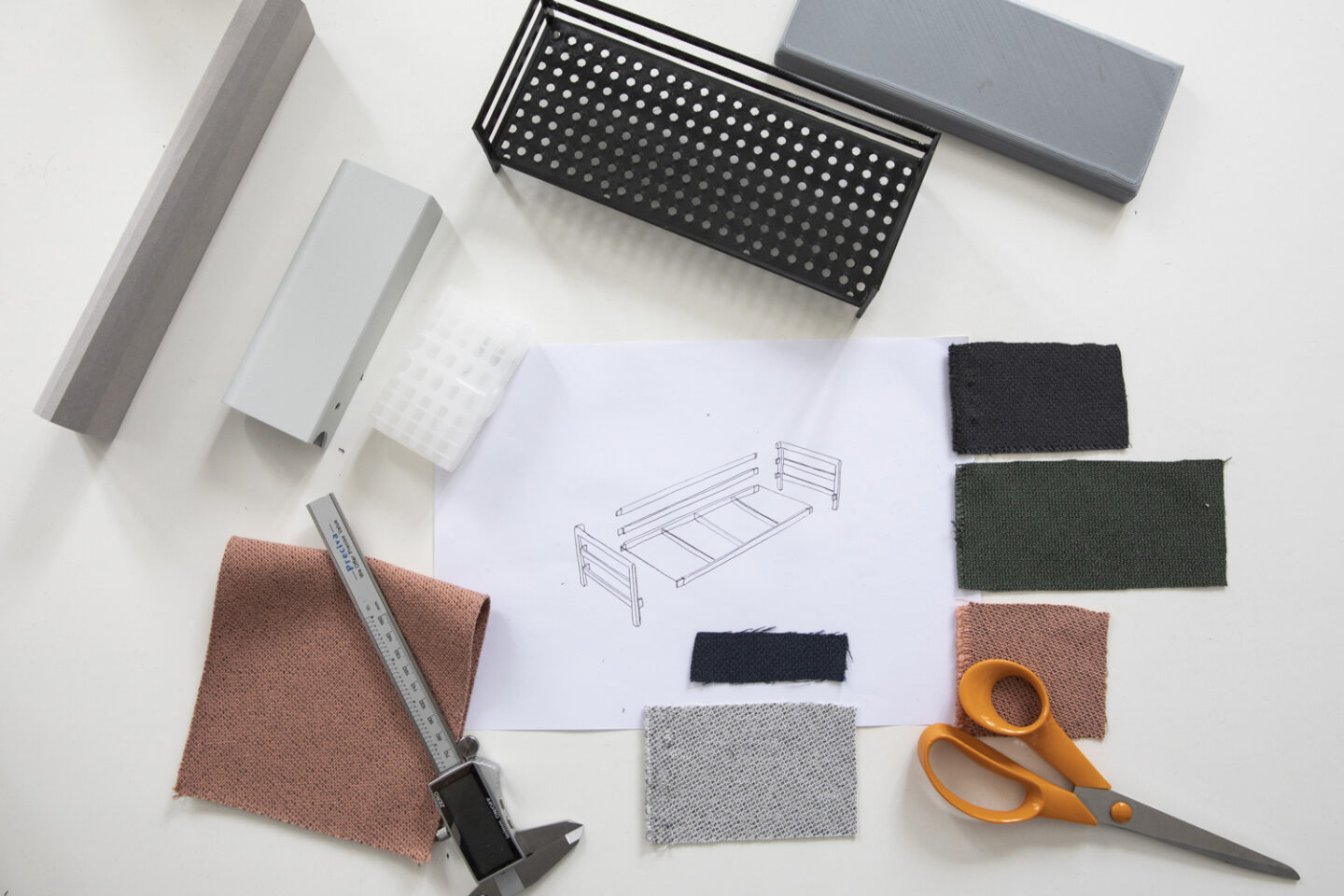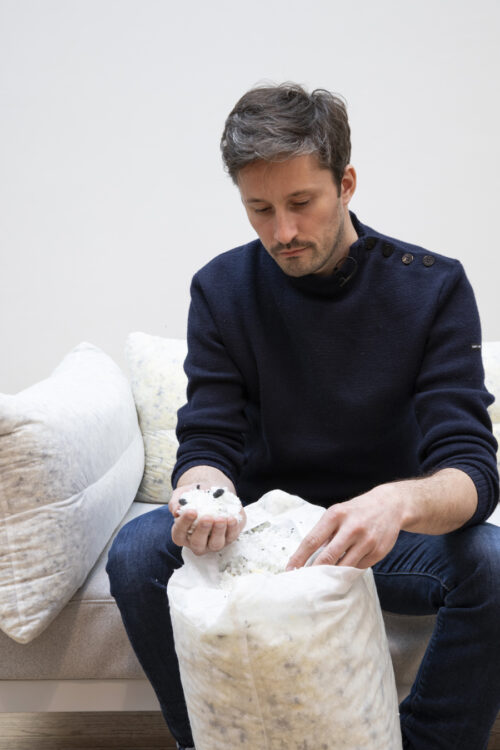 Choice of foam, virgin and recycled
Foam is for the first time the main material of a TIPTOE object. As with every material we look for the most sustainable and responsible way to use it, putting your comfort at the center of our attentions. The foam of the seat must be dense, firm but also welcoming. We have therefore chosen a polyurethane foam HR (High Resilience). This foam is virgin because there is not enough hindsight on the use of recycled foam in sofa seating. We preferred the high density of this foam which promises incredible comfort and resistance over time, also a vector of durability that will keep your sofa from sagging. As for the soft cushions and armrests, they are filled with recycled polyurethane foam flakes. These are scraps of our seat foam that are ground up and re-injected to provide a welcoming fluffiness. The foam and the flakes are made in France.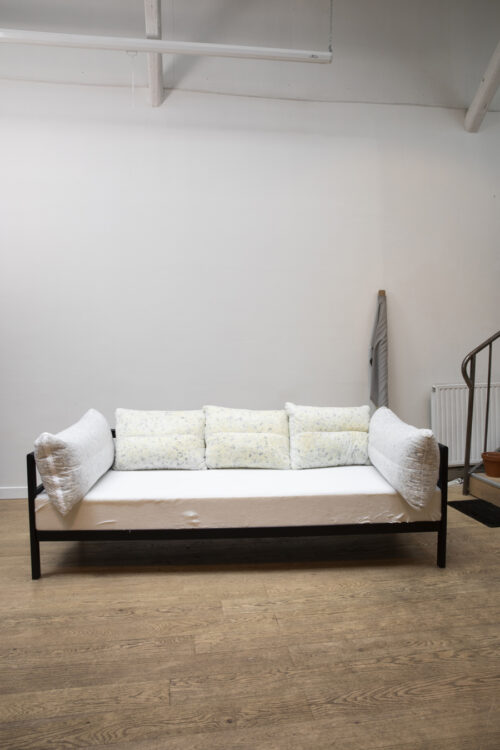 Why EASY?
The EASY sofa meets 4 key principles: EASY to assemble: the sofa is composed of few parts, which allows a quick assembly in 10 minutes. This is also a considerable advantage for end-of-life and recycling. EASY to keep: EASY is a sofa designed to have an exceptional lifespan and be passed on to loved ones. Its construction is extremely sturdy, as are its partially recycled materials (foam flakes and fabrics). Every part is easily repairable or replaceable, from the textile covers to the steel frame to the foam upholstery. EASY is a sofa with removable coverings, which allow for easy and fast maintenance, but also when you need or wish to change coverings. EASY on the planet: the ease of disassembly and the composition of elements, all single materials, make it a sofa with exceptional recyclability. We have chosen the best materials, steel, recycled fabric, CMHR foam and recycled foam flakes. EASY to love: EASY is also a sofa of impressive comfort thanks to its depth of seating and the generous filling of its enveloping cushions to curl up in with family or friends. The sofa has a timeless look, as its steel structure contrasts with the softness of the cushions.