SHOP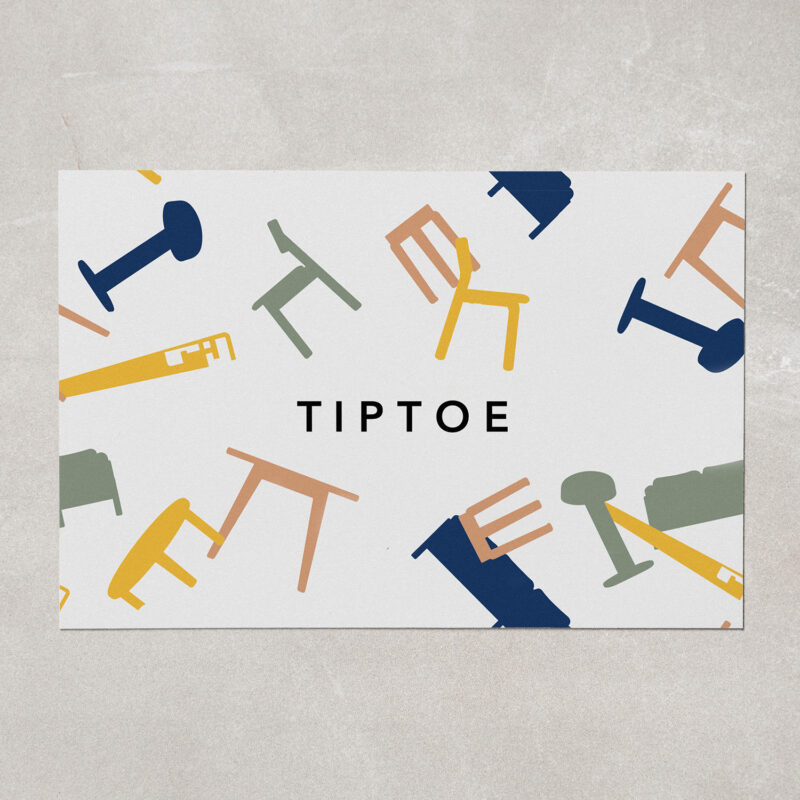 Gift card
50.00€ – 1000.00€
Looking for a last-minute gift? Not so sure about what to offer? No worries, you just found the perfect gift idea. The TIPTOE gift card is immediately available and valid for one year upon the date of purchase.
Your gift card is valid for 1 year from today (until 30 November 2024) and can be used once or several times on tiptoe.fr.
What should I know about the TIPTOE gift card?
How does the TIPTOE gift card work?
Select the amount of your TIPTOE gift card.
Enter the recipient's email address, your name and a personalized message (optional).
Once your order has been placed, the person of your choice receives an email with a code valid for 1 year to use as a voucher on tiptoe.fr/en.
Note: You can also enter your email address in step 2 to print the gift card received by email yourself.
Do I have to activate my TIPTOE gift card?
There's no activation needed. You gift card is automatically activated right after the order.
How long is my gift card valid?
The gift card is valid for one year from the date of order.
May I use my TIPTOE gift card over several orders?
Yes, you may! Imagine you received a €200 TIPTOE gift card. You can definitely place two different orders of €100 euros each. Check your gift card balance here.
Where can I view the remaining balance on my TIPTOE gift card?
You can view the remaining balance on your TIPTOE gift card on this page.
Europe
France
UK / Switzerland / Ireland
US / Canada
| | |
| --- | --- |
| | Ground Floor delivery |
| < 150 € | 12.90 € |
| 150 – 350 € | 17.90 € |
| 350 – 500 € | 27.90 € |
| 500 – 1000 € | 39.90 € |
| > 1000 € | 49.90 € |
| | | | | |
| --- | --- | --- | --- | --- |
| | Pick up Point | Ground floor delivery | Home Delivery (Paris region only) | Home Delivery (outside of Paris)** |
| < 150 € | 7.90 € | 11.90 € | Unavailable | Unavailable |
| 150 – 350 € | 9.90 € | 15.90 € | 15.90€ | Unavailablee |
| 350 – 500 € | 17.90 € | 22.90 € | 22.90 € | Unavailable |
| 500 – 1000 € | | 29.90 € | 29.90 € | 69.90 € |
| > 1000 € | | 39.90 € | 39.90 € | 79.90 € |
| Sofas | | 39.90 € | 39.90 € | 59.90 € |
| | |
| --- | --- |
| | Ground Floor delivery |
| < 150 € | 24.90 € |
| 150 – 350 € | 39.90 € |
| 350 – 500 € | 49.90 € |
| 500 – 1000 € | 64.90 € |
| > 1000 € | 79.90 € |
| | |
| --- | --- |
| | Ground Floor delivery |
| < 150 € | 59.90 € |
| 150 – 350 € | 79.90 € |
| 350 – 500 € | 1299.90 € |
| 500 – 1000 € | 179.90 € |
| > 1000 € | 199.90 € |
Well-designed, well-made
and built-to-last furniture

100% secure payment and 3x or 4x payment
(visa, mastercard, amex)

Quick delivery and easy
returns all over Europe

Any question? Looking for advice?
Drop us a line at [email protected] :)