SSDr chair – recycled plastic
189.00€ /chair
SSDr chair : a new milestone
TIPTOE's mission is to make sustainable furniture that is altogether well-designed, well-made in Europe and built-to-last.
The SSDr chair is the result of 1.5 years of challenging and hard work towards the creation of a beautiful, useful and sustainable piece of furniture. In the furniture industry, the use of recycled plastic is almost inexistant and we see the SSDr chair as an additional proof that plastic waste can be turned into timeless and durable items.
In this version of the SSD chair, the seat and backrest are not made of wood but of recycled PP plastic. PP or polypropylene is a widely-used type of plastic that can be found in food containers, household appliances, automotive parts and more.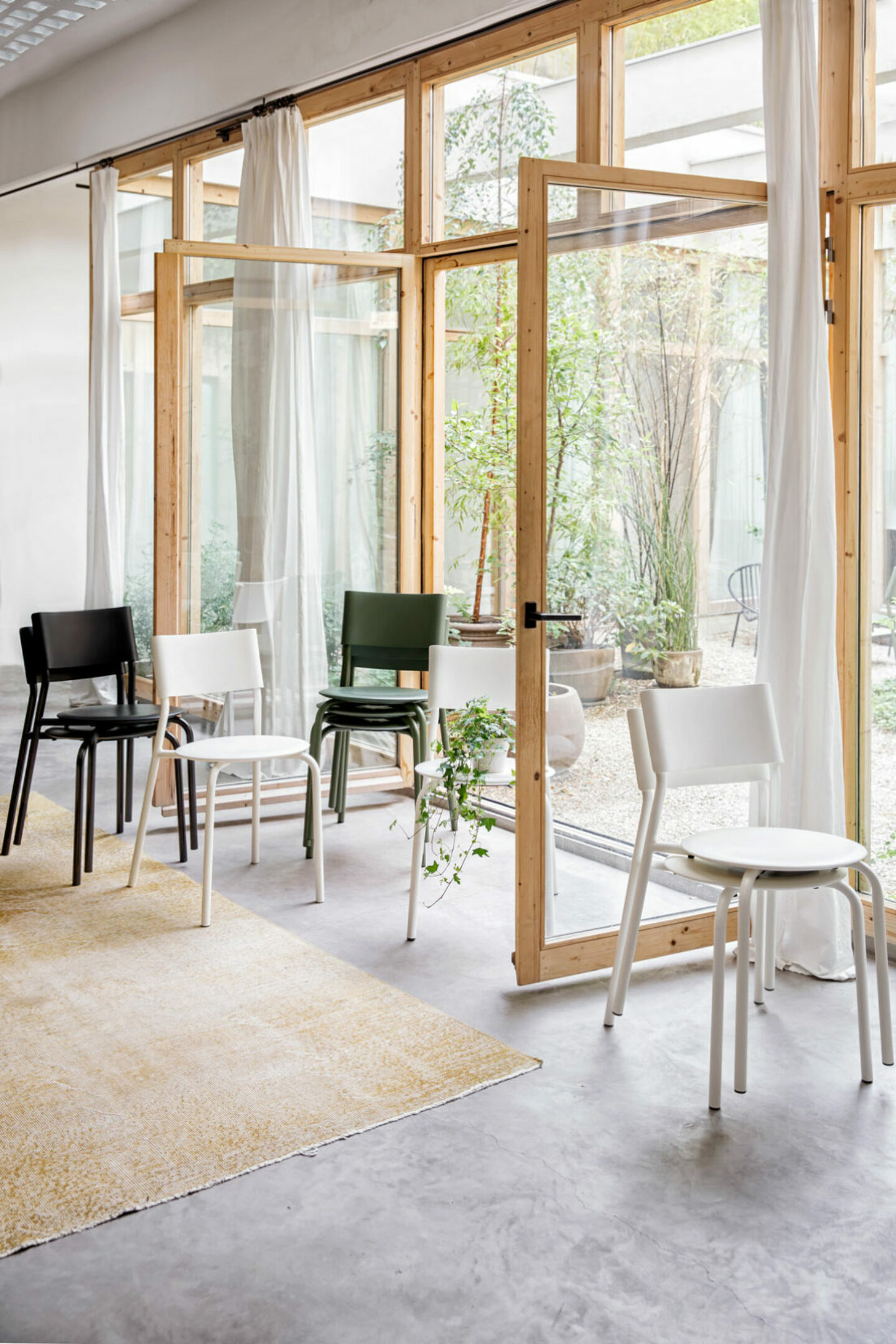 SSDr is Simple, Strong, Durable and Recycled.
SSDr is SIMPLE : it assembles in 2 minutes with just one screw and is made of only 5 easily-replaceable parts.
SSDr is STRONG : 100% made in Europe with SMEs with exceptional know-how inclunding our family factory based in France, near Chamonix.
SSDr is DURABLE : it is made of durable materials and delivered in a flat packaging made of at least 80% recycled paper. The SSDr pack is about 3 times more compact than a conventional chair, reducing CO2 emissions during storage and shipping.
SSDr is RECYCLED : the backrest and seat of the SSDr chair are made from recycled PP plastic.
We're using recycled PP plastic (polypropylene) because of its specific technical and mechanical properties combining flexibility and resistance. PP or polypropylene is a widely-used type of plastic that can be found in food containers, household appliances, automotive parts and more.
Throughout our process, the PP plastic is collected, sorted and cleaned before being crushed into small parts. It is then processed into pellets which are melted and injected into a custom-made mould. Whereas many furniture pieces are made of virgin PP plastic, very few are actually made of recycled plastic.
Our goal is to show plastic waste can be given a second life and recycled into desirable, long-lasting and useful furniture.
Not only is the SSDr chair made of recycled plastic, it is also 100% recyclable.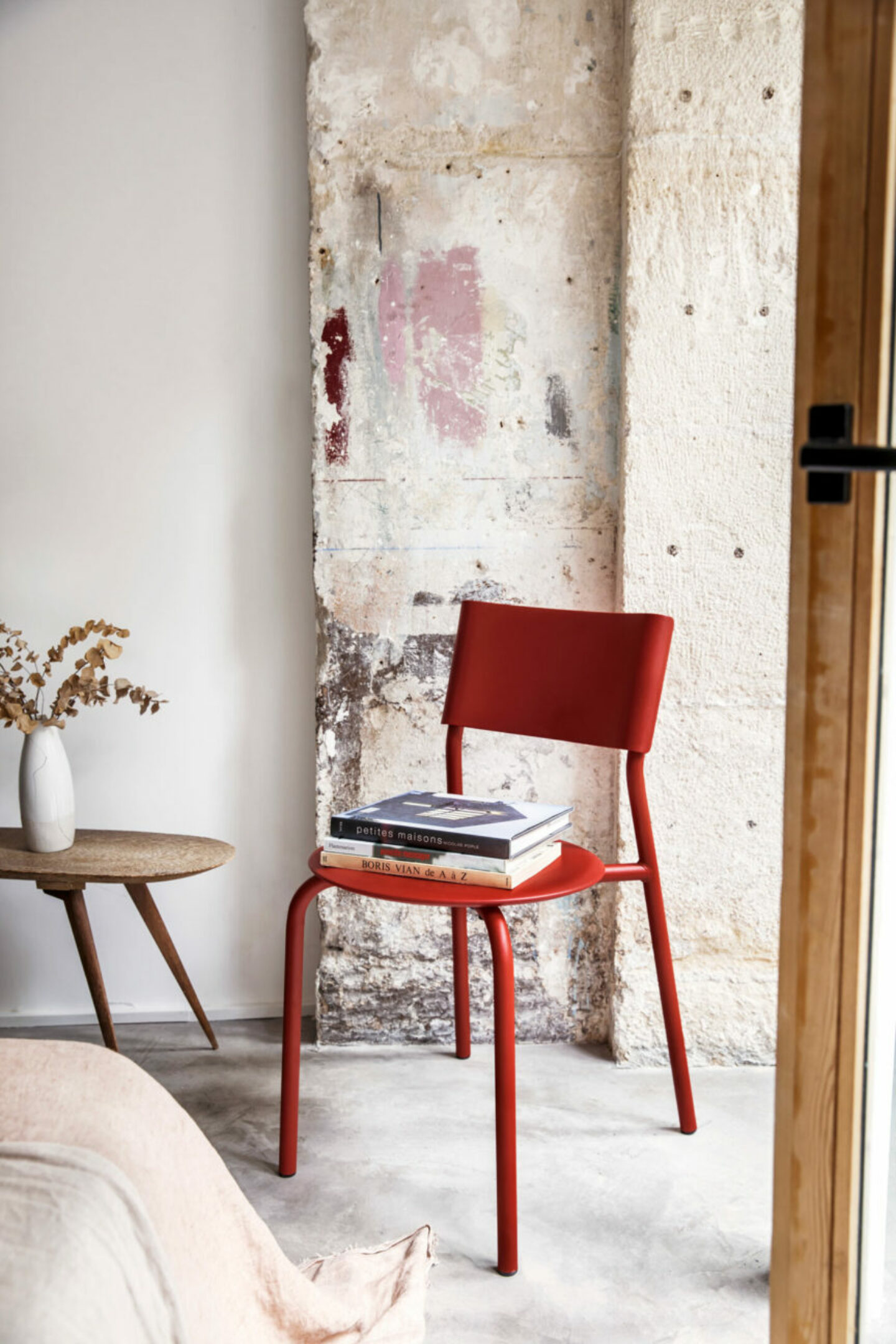 Discover how SSDr is made
The SSDr chair, a must-have
The monochrome look of the SSDr chair make it an elegant and contemporary chair.
In line with our product design DNA, the legs of the SSDr chair are made of steel and come in the same colours as the TIPTOE table legs.
These colours have been carefully curated to match with the wood of the TIPTOE tables. The SSDr chair seat has been designed with comfort in mind. The tilt and roundness of its curves let you sit comfortably on it for long periods of time. The ergonomics of the SSDr chair have been accounted for to make it suitable both as an office as a dining chair.
SSDr chair assembly video
1x SSDr chair in recycled plastic
100% made in Europe including in our family factory in France
The TIPTOE legs are made of powder-coated steel. Seat and backrest in recycled PP plastic.
Height: 82cm
Seat height: 47.5cm
Large: 54.5cm
Diameter: 40.5cm
Weight: 5.7kg
Delivery within 7 days in France for products in stock / within 10 days in Europe.
Upon delivery of your order, you have 15 days to return your products to us. For returns, please reach out to [email protected]
Design registered and protected internationally
Well-designed, well-made
and built-to-last furniture

Secure payment
(visa, mastercard, amex)

Quick delivery and easy
returns all over Europe

Any question? Looking for advice?
Drop us a line at [email protected] :)