Can you introduce yourself ?
My name is Enikő Katalin Eged and I'm a Budapest-based illustrator and pattern designer. I finished my university studies at 2022 spring semester at the Hungarian University of Fine Arts.
How do you describe your creative world ?
I love floating between different visual narratives, atmospheres, and moods, and I express myself with my recurring motifs and favorite color combinations. I have two different graphic languages – a more abstract and a comic-like detailed one. For some reason, I decided not to choose one but keep experimenting, and this is how I have my own graphic identity. If I need to summarize somehow, I would say the most important thing for me is the feeling of familiarity, the ability to express emotions, and the connections between collective and personal memories.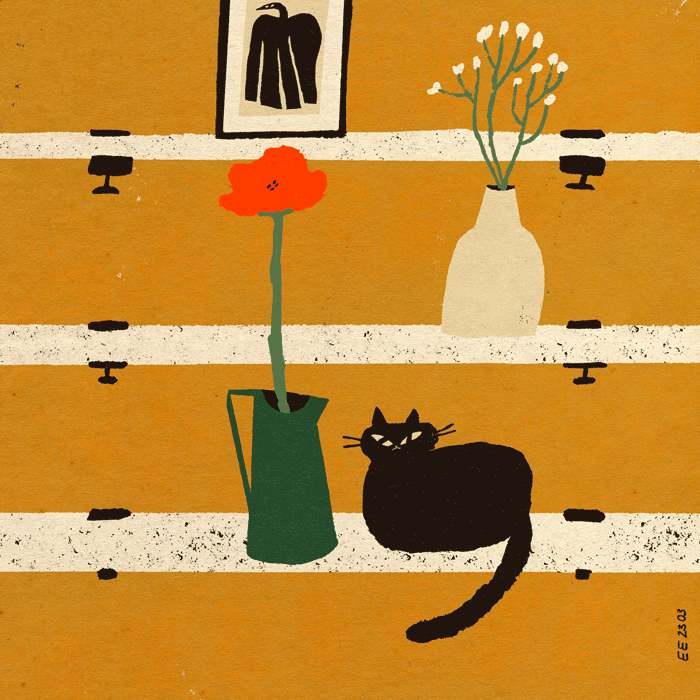 Where do you get your daily inspiration ?
Emotions, memories, animals (horses and cats).
How important is your home to you ? What does it say about you ?
Home and cosy atmosphere is important to me – even if I stay anywhere just for a few months, I need to put my drafts, doodles, photos and collected random postcards on the wall, I need to have some flowers. As a pattern designer, I really love patterned fabrics and textures in my home.

What is your vision of TIPTOE ?
I love how functionality and cosy vibes meet in TIPTOE's aesthetic. Also I really appreciate the small details of how different parts connect to each other.

What did you like about integrating our products into your creative world ?
 It was a super nice journey for me, I imagined everyday home moments, colors and moods with my favourite elements & TIPTOE items.

A recent creative discovery to share with us ?
My latest creative discovery is the love of bedouine patterns and colors – I visited the Jordan Craft Center two weeks ago, where I had the opportunity to get familiar with all these beautiful motifs.

A cool address to share in Budapest ?
My favorite place in Budapest is the Botanical Garden of ELTE