Sowen is here to help you with your professional projects
Sowen describes itself as a creator of living spaces. From overseeing changes to the realisation of the work through design and furniture, the Sowen team accompanies its clients throughout their furnishing projects, from start to finish, in order to create the living space that best suits them.
Aware of the fact that the ways of working are changing faster than ever, Sowen shows its capacity to be responsive and innovative, so that it may always offer its clients the best possible service. It is with this in mind that they decided to create the Home Office by Sowen, wherein they offer desks from TIPTOE.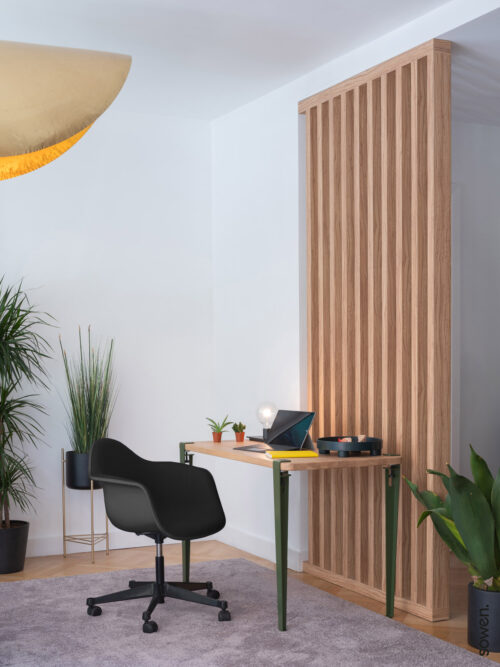 Tell us the back story of this project?
Like many people or companies, these periods of containment have given us time ask ourselves some questions, if not reinvent ourselves. Indeed, these lockdowns have made companies and employees aware of the fact that it was possible to work remotely and more particularly from home. Teleworking could therefore become a longstanding solution in today's working world.
However, three limitations have emerged:
– The need for high-performance IT equipment that can support the conference calls
– The management of remote collaboration (team management, loss of contact…)
– Home Office equipment adapted to intensive use.
It is for this last issue that we wanted to provide an innovative solution.
What were the challenges/goals of this project?
Our goal is to help companies to equip their employees with professional quality furniture for "Home Office" use. The idea is to pool resources and obtain advantageous pricing conditions for quality products while focusing on aesthetics so that they can be easily integrated into everyone's home.
Indeed, the containment periods that we have experienced show that the workstation must now be fully integrated into one's living space and this for the long term. It must therefore be "beautiful", ergonomic and multi-purpose. In a more global way, just like the mutation of the office in the last few years, on more "home-like" trend, we are now witnessing a mutation of the home which is also becoming multi-purpose.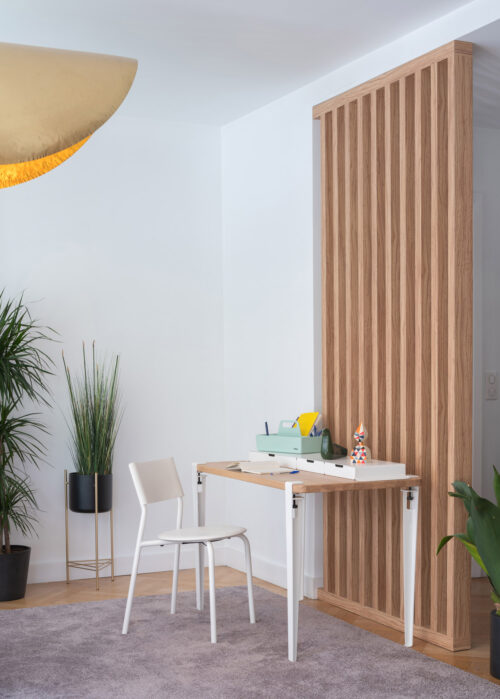 What is your position on sustainability in the workplace furnishing sector?
The current period has brought on a resurgence among peoples for the need for the need to take care of our planet and to try to take part in doing so. We have also seen a collective gain in awareness that has seen the emergence of more eco-friendly solutions, more mutual aid, more DIY…
In this context, we deemed it necessary that our offer also be responsible. This is why, through our rental offer and a process of end-of-life repurposing, our offer has become eco-responsible and goes hand-in-hand with the CSR approaches of companies.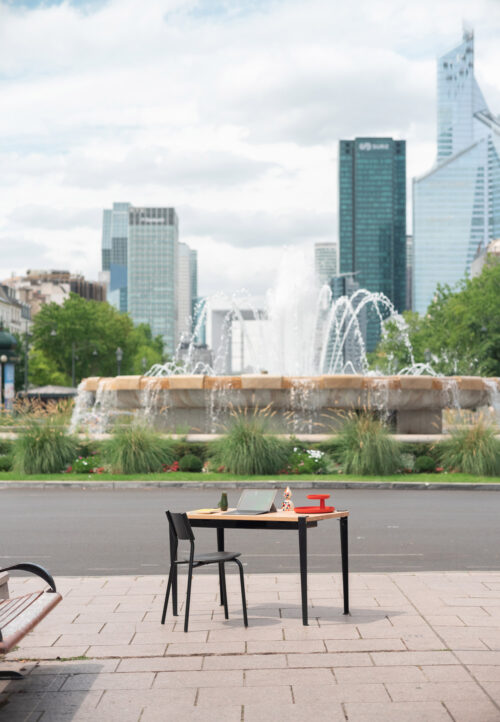 Why did you choose to call on TIPTOE for this Home Office range?
Working with TIPTOE was an obvious choice for us. Indeed, their products are at the crossroads of employee expectations:
– Design
– Durable/Sustainable
– Modular
What's more, the brand's already strong presence in the world of home furnishings allows for immediate identification between office and home.
We wished to propose in our package offers furniture that is easy to integrate both aesthetically and technically with design products; simple to install and customisable.
So TIPTOE also furnishes pro workspaces!
Thank you to the Sowen team for answering our questions and for offering TIPTOE desks as THE sustainable solution for working at home and in the office. If you have a workspace, restaurant or other professional project, contact our dedicated team for any information on our prices or our custom-made offer.
Contact our team