Roland Berger, one of the main strategy consulting firms, called on architects and designers Charlotte Vinet and Romaric Le Tiec to think about its new offices. This duo chose TIPTOE to furnish its Paris offices. In an objective of flexibility and modularity, TIPTOE furniture also brings a real identity to these spaces. Our team dedicated to professional development projects supported, advised and proposed an offer adapted to the needs of this firm. Discover the project with the interview of the creative duo.
Discover our professional offer
What is the story of this project?
Roland Berger was keen to boost its digital offering to its clients and to concretise this new offering for start-ups oriented towards technology and innovation, working from a dedicated space at the company's Paris offices.
Would you introduce us to all the stakeholders in the project?
Roland Berger Paris is the contracting authority. The project management was entrusted to the Charlotte Vinet-Romaric Le Tiec team. Charlotte Vinet is an interior architect, and Romaric Le Tiec is a designer.
The companies Trydan Aménagement and Neos Agencement were tasked with handling the completion of the project.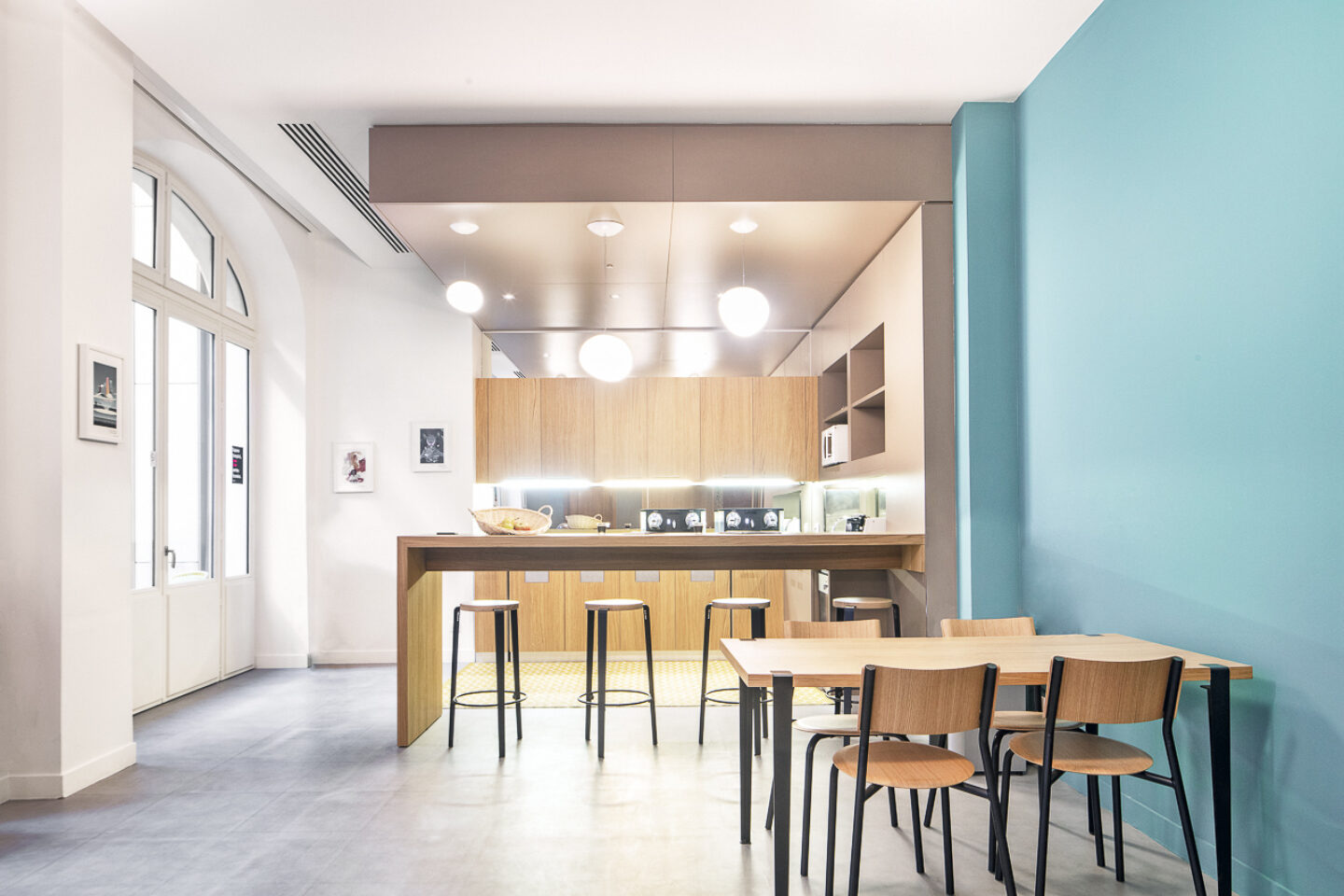 What was at stake for the client in the project? What were the objectives in arranging this space?
There was a great need for flexibility and modularity in order to make it possible to have scalable usages within the same space, and also to cater to a wish to mix up open, collaborative and even informal spaces with more private spaces for use by small groups or individuals making phone calls. In the open workspaces of today, it is a real challenge to find any personal space where you can speak freely.
The paucity of brightly-lit space on the ground floor prompted us to exploit the transparency elements, and also to create dual-aspect openings between the street and the inner courtyard. The building has also been redesigned to provide employees with a space that is conducive to working outdoors.
The COVID-19 situation raises new issues, and further solutions may have to be found to minimize interactions – at least temporarily. These could include optimizing personal spaces to encourage work between office employees and remote workers, thereby giving rise to workspaces being used in rotation.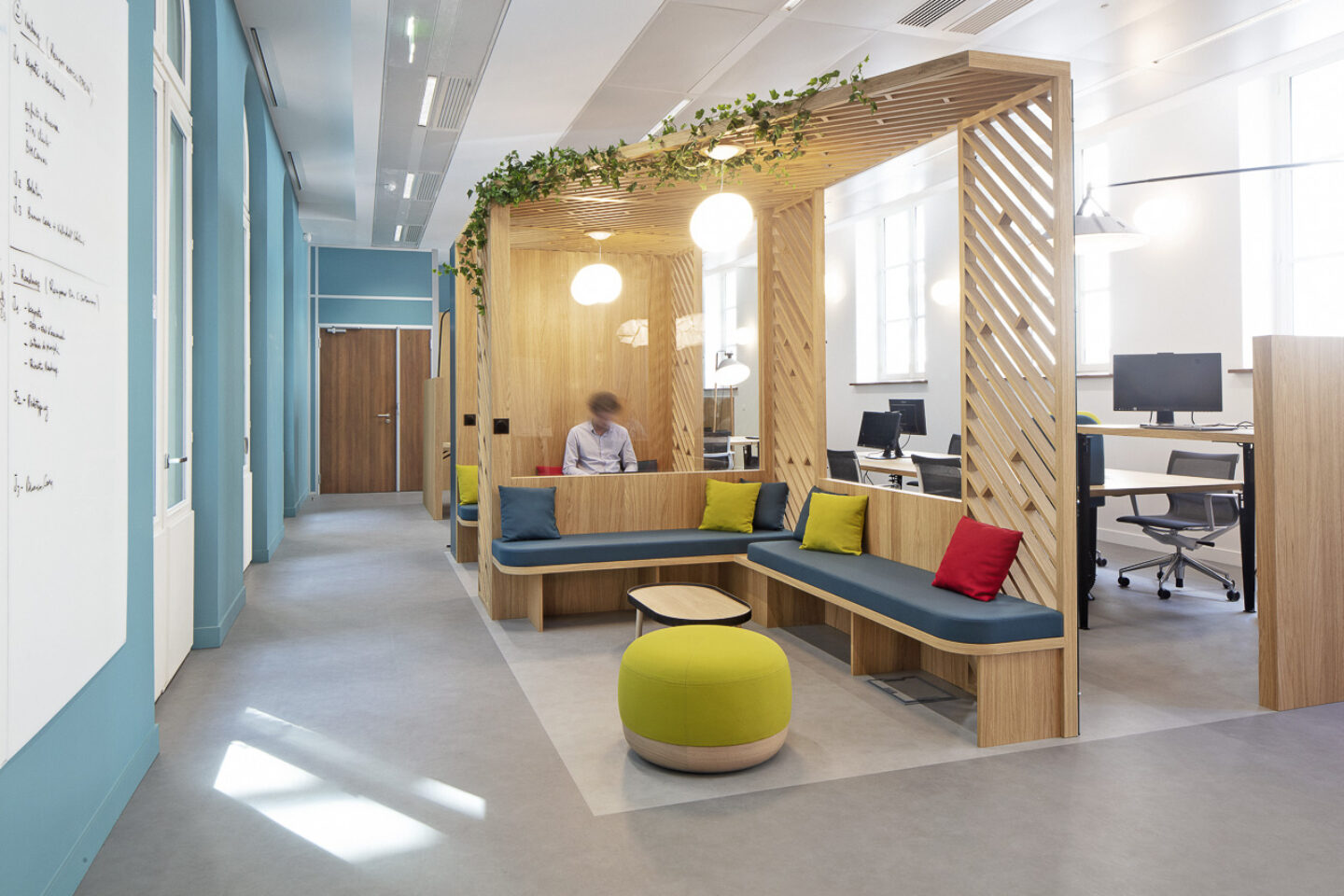 What uses does the client make of this space?
The space has a threefold purpose: hosting the Roland Berger Digital Hub team; welcoming Roland Berger clients to support them and co-construct their digital solutions with them; and finally making all or part of the area suitable for private use for businesses that need interactive and easily modular spaces.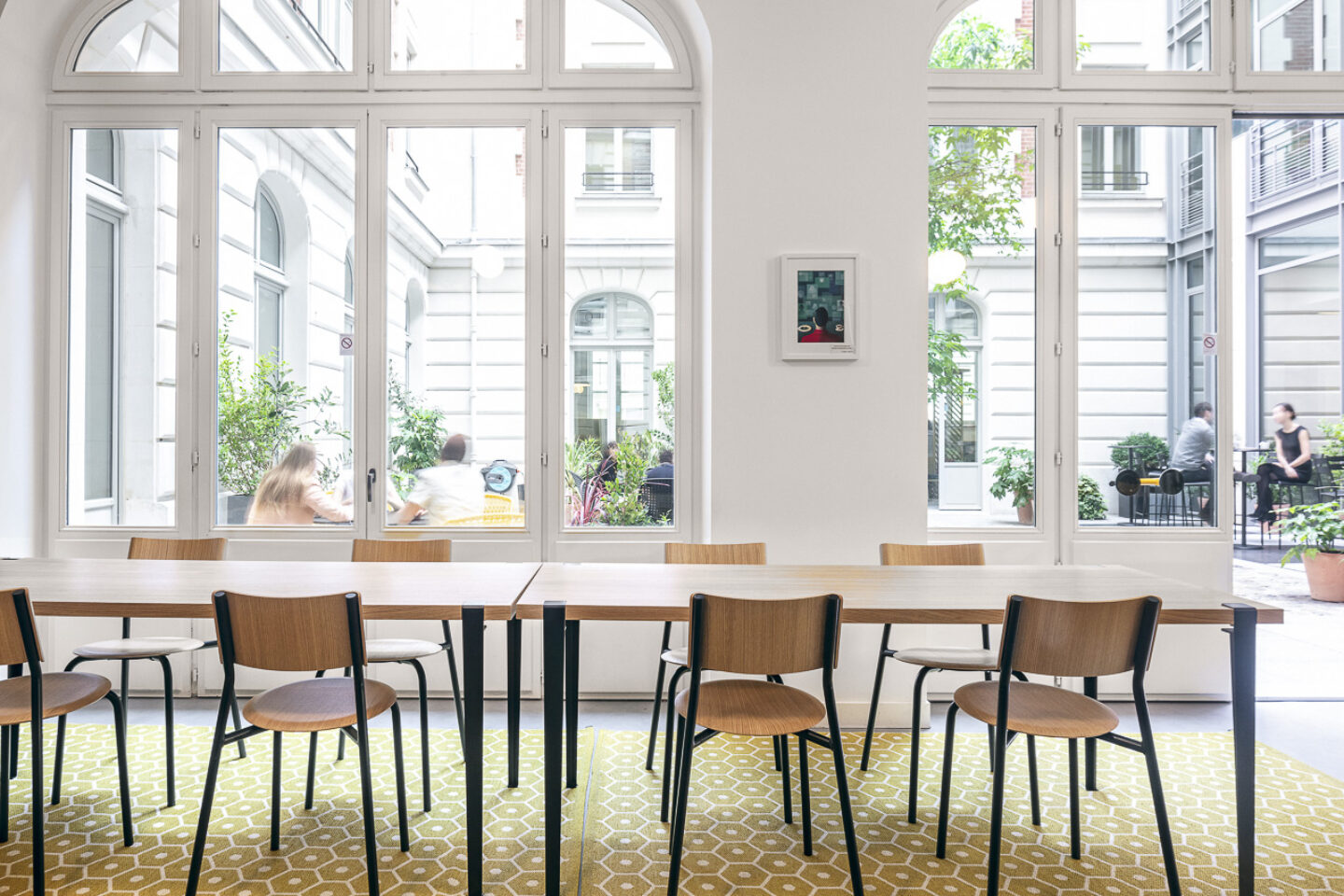 Why did you choose to use TIPTOE? What do you like about it, and how did you integrate the brand's furniture into the space?
There was a desire to create a spatial identity specific to this new space – something that had not been seen anywhere else. We did not want a set-up composed exclusively of catalogue furniture. Rather than integrating the TIPTOE legs protruding from the flat surface as per its usual presentation, we arranged them flush with the vertical and horizontal planes of custom-made flat surfaces. You almost end up with a new product. The project was also an opportunity to integrate two new TIPTOE products, giving the space a particular identity: the SSD chair and the BIG LOU stool.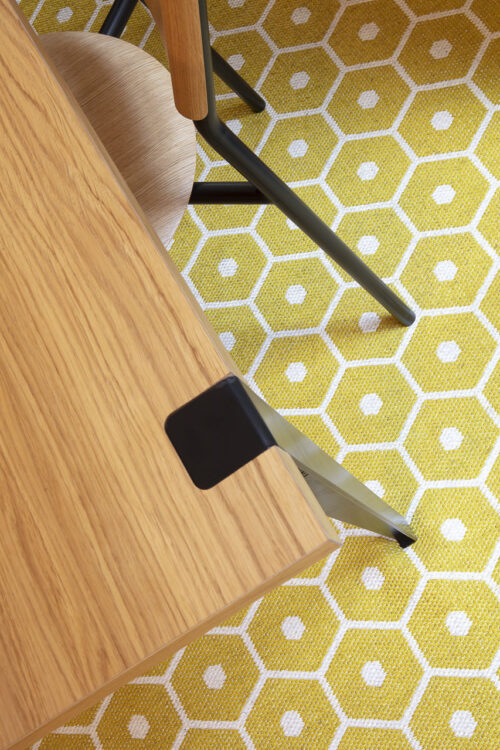 A professional project?
Thanks to TIPTOE's professional offer it is possible to meet a large number of specific needs and arrangements thanks to a custom-made offer, in materials, colors or even dimensions for a singular identity.
Thank you to the teams who worked on this project for choosing TIPTOE!
Photo credit : Clément Boulard
Designer : Romaric le Tiec
Interior architect : Charlotte Vinet