Shelves are indispensable in a house or apartment. In addition to giving your interior a touch of style, they let you keep all your favorite objects within quick reach or sight, and increase your storage space.
But you still need to know how to mount a TIPTOE wall shelf to take advantage of them! While these wall mounts may surprise at first glance, you will see that hanging your own TIPTOE shelf is truly child's play!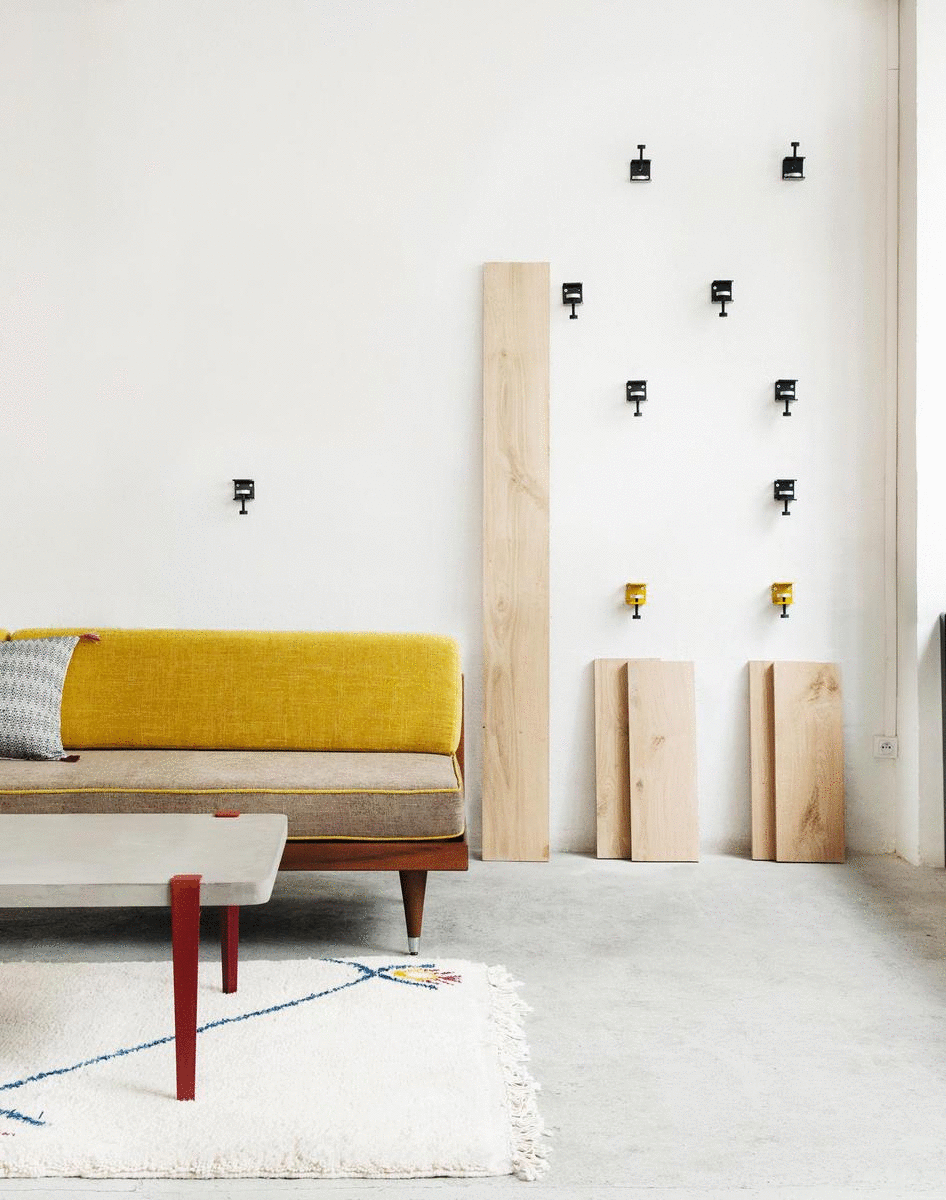 Getting started
Before mounting your wall shelves, take some time to consider your layout. Don't hesitate to experiment before choosing the best location for your shelves. Once you've found the right spot, using your tape measure and pencil, draw small crosses where you intend to put your wall mounts.
Using a spirit level (aka bubble level) will be a great help. It would be a shame to mount a shelf unevenly and not be able to put anything on it!
Using a drill, make small holes with a diameter proportionate to that of the BRACKET wall mount. This is the future location of your mounts. Be proud of yourself now, you're almost there!
TIPTOE wall shelves
Mounting your shelves
You were dreaming of it and TIPTOE made it happen! The brand has proven that hanging shelves without your typical wall brackets and without any hangups is totally possible!
Please note that screws and anchors are not included. You will be able to choose them according to your type of wall: the Molly for drywall, the Fischer for concrete and stone, etc. All the shelves can be hung on any type of wall.:
Equipment required:
Your shelf boards;
 Your Bracket wall mounts;
A pencil;
A drill;
Some screws;
Some anchors.
Place your Bracket against the wall and mark the location of the three holes with a pencil;
 Using a spirit level, make sure to place your Brackets on the same horizontal line. Be advised: just because your shelf is parallel to the floor doesn't mean it is straight! If your floor is slightly slanted, your shelves may be as well! The spirit or bubble level is therefore essential;
Make holes where you have made your markings and insert the anchors, then hang your mounts;
Place your board into the Brackets and tighten them by hand;
Cinch them tighter using an Allen wrench.
Now step back three or four steps and admire your work. Now you know how to hang a shelf on a wall. You'll have to admit it was easier than you expected!
TIPTOE shelves and wall BRACKET
Create your wall bookcase and increase your storage space
Bookcases are often massive. If you would prefer a lighter touch in your decor, or if you do not have room for an imposing piece of furniture, TIPTOE bookcases and shelf trios are an ideal (and responsible!) alternative.
The BRACKET wall hanger offers you the possibility of installing a tailor-made shelf board with ease. This discreet shelf bracket ensures an optimal hold on your wall.
By hanging these shelves on a wall, spacing them out as you see fit, you will get a nice accumulation effect that will pep to any given room. You get more storage without overloading your space. These new generation bookcases no longer just hold your books: they become veritable decorative objects. Follow the same steps as to hang a wooden storage shelf, but don't forget to measure the distance between each board.
TIPTOE bookshelves
Choose your TIPTOE wall shelf
Dimensions: aesthetic and functional decorative elements
To make a shelf that suits your needs and one you can hang wherever you want, TIPTOE boasts a wide range of sizes.
If you are looking for a living room shelf, the wooden wall shelves will do the trick. Thanks to their solid oak shelf board, they are noble and aesthetic. They will show off your plants, your books, your photos, a small lamp… You can also choose to add shelves to structure and decorate a wall painted in a single colour, for example.
For your bedroom, TIPTOE has created a small shelf specially designed to be used as a bedside table; a place for your glasses, your watch, your alarm clock or your water glass. Note that some wall shelves can also be used as a bedside table.  The wall-mounted bedside table allows you to save floor space. Cute and practical, it also makes life easier when you need to vacuum!
Finally, you can opt for the trio of shelves in a bedroom to hold your books. No more massive bookcases! Arranged on the TIPTOE-brand boards, your books will always be within quick reach. Add a small vase or a trinket for fanciful note and you're done! TIPTOE wall bookcases are even suitable for home offices that need storage!
Your storage furnishings and their practical and modern fasteners will keep your favourite objects close at hand. Each of our shelves can hold up to 15 kg or 33 lbs (and this with only  two wall mounts). Available in several sizes, you are sure to find a wall shelf that fits into your space!
All TIPTOE shelves
Materials: spruce up your space with a small shelf with a bit of style.
TIPTOE has designed several shelf models to satisfy all kinds of desires. There are:
• Live edge wood shelves with bark: go for a natural and very trendy decor;
• Reclaimed wood shelves: easy to mount thanks to their shelf Brackets, these wooden shelves provide an authentic decor for your interior.
• Recycled plastic shelves (in 2 colours: Venezia White or Pacifico Blue). They offer you a sober or festive decor, based on the plastic you choose. The plastic is recycled and each shelf is unique.
• Solid oak shelves: This wood is still an essential. It is one of the safest bet for your decor, no matter the style you're going for.
Discover the materials
A unique shelf for all rooms
Depending on the piece of furniture you dream of creating, you can choose the board of your choice, and combine it with BRACKET wall brackets. To create a unique piece of furniture, you can also purchase the BRACKETs and attach the board of your choice. With TIPTOE, a custom shelf is finally accessible!
The wall BRACKET
Looking for new decorative objects?
When it comes to interior decoration, it's a bit like love: there are the faithful, and there are those who need a change! One of the major advantages of TIPTOE shelving is that once the wall mounts are in place, you can simply switch out the board to change-up your style. This makes it easy to go from plastic to wood, and swap your modern decor for a more natural look.
See the TIPTOE shelves