Have a look at this portrait of Alice Roux, decorator and designer, passionate about shapes and colours. She conveys to us with passion her relationship to art, her fascination for decor and different perspectives. Alice also discusses the TIPTOE objects she has revisited, from the coffee table to the stool and the shelves. Here, we find a genuine visual identity, specific to the work of Alice Roux.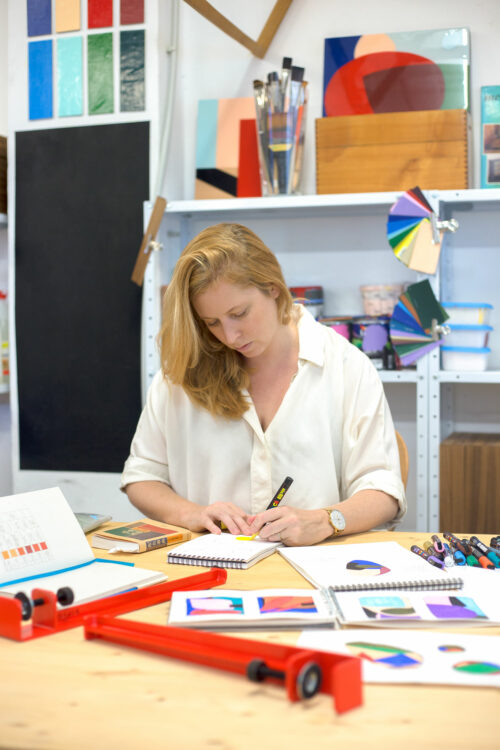 Hello Alice, could you tell us about your background, your creative project?
I am Alice Roux, decorator and designer. Since I was a child, I've been fascinated by "Decor", the decor in the sense of scenic space, unusual architecture, or even imaginary places. I have also always been seduced by the decor for its ornamental characteristics through patterns, objects, textiles, the Decorative Arts. What I'm drawn to is the power of the "superfluous"; its magic and the beauty of an artisan's work.
My studies in interior architecture and design at ESAG Penninghen in Paris have made me passionate about this subject matter. I worked mainly in modelling: volume, light and colour were my favourite modes of expression. Today, my projects, whether interior decoration, patterning, object design or furniture are inseparable from an artistic practice started a few years ago around colour, and through which I explore, in particular, painted furniture.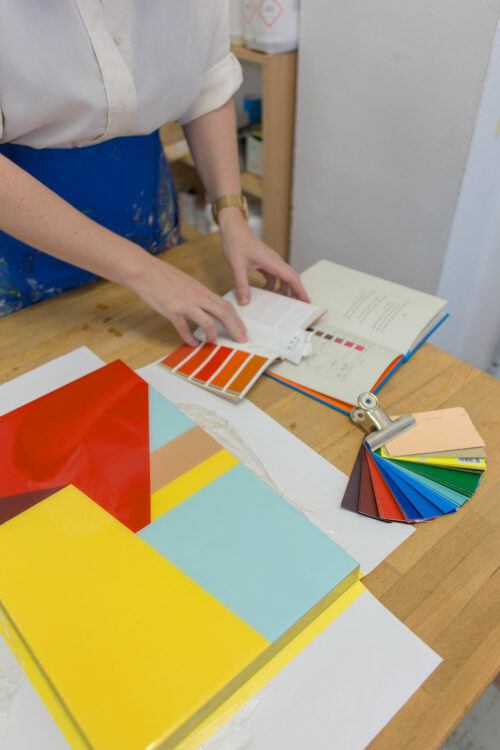 How would you describe your universe? What are your favourite materials and techniques?
What is most dear to me is working with my hands: colour composition, the shaping of a given volume. I like to play with architectural perspectives and optical effects; scale and material relationships. I always favour traditional modes of expression and design techniques. As such, technology is a tool for realisation in the process of my creation.
Multiple experiences (theatre set design, fashion, art direction) have allowed me to consider the range of possibilities in the application of my artistic practice and the deployment of my painted and coloured universe, especially in the fields of applied arts, art of living, design or pattern applied to the world of fashion and textiles.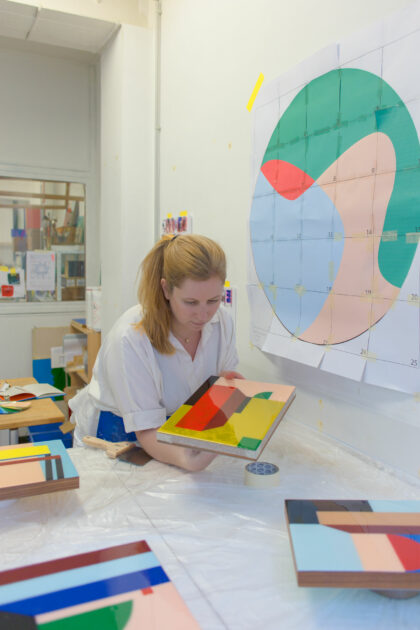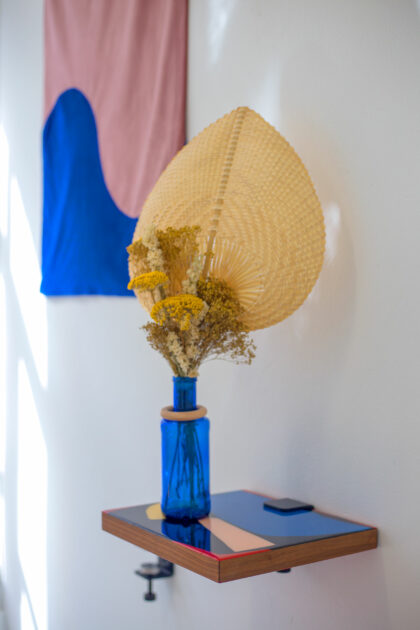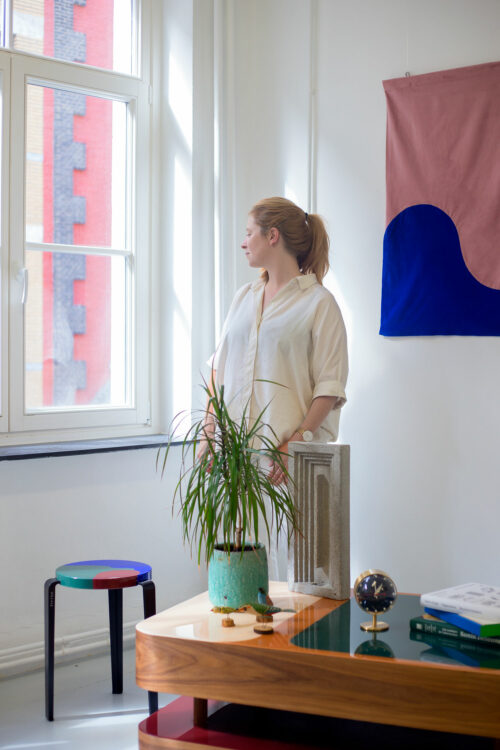 What are your references and your artistic or philosophical inspirations?
My strongest reference remains that of Sonia Delaunay. The exhibition devoted to her in 2014 at the Modern Art Museum in Paris literally overwhelmed me. Her work is immense. She is one of the first to have understood the importance and the joy of bringing Art into everyday life by inventing prints, designing clothes, painted objects, furniture, illustrating poems, etc. The artists who work with "Light" are also a great source of inspiration like James Turrell, Anthony McCall or Bob Wilson. There are so many mysteries and wonders that emerge from their work, it's fascinating.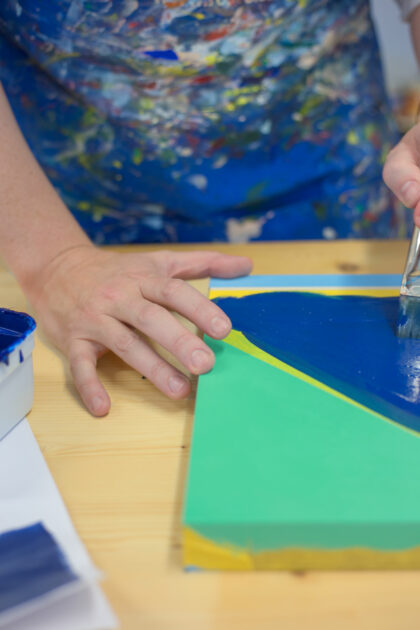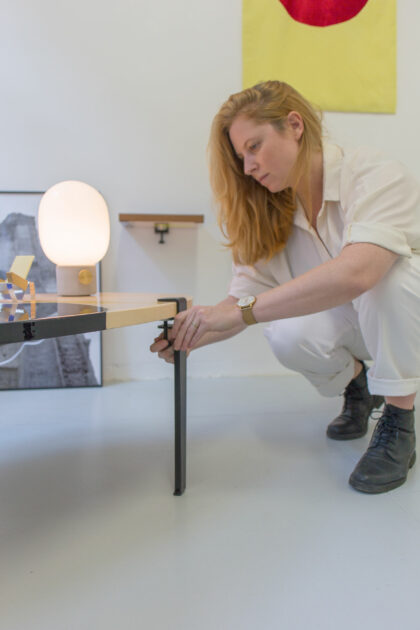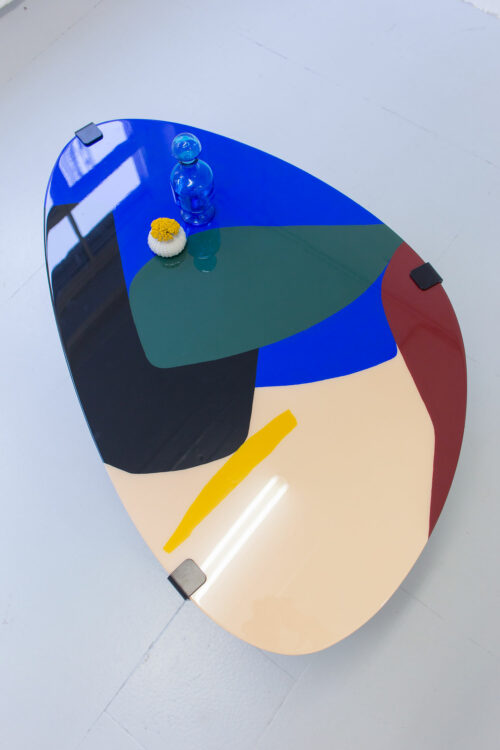 What is your main project at the moment?
Today, I am exploring in particular the world of painted furniture. I am creating furniture out of walnut, as well as the paintings I paint on them. I respond mainly to work based on custom orders. Recently I propose a second offer through collections, limited editions as is the case for wall consoles. I am also continuing my creations of patterns, my work on fabric and staging.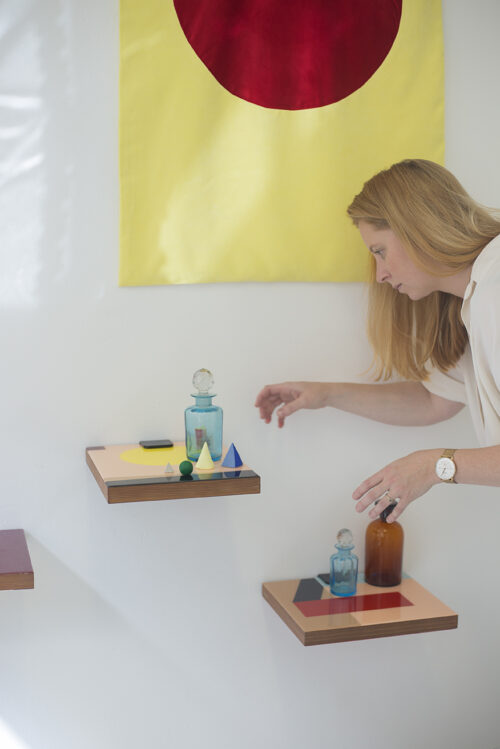 How did you get to know TIPTOE? What do you like about the objects?
I discovered TIPTOE at the Salon Maison et Objets (Home and Objects Show) in 2018. What first drew me in were the colours on the stand, I was seduced by the many possibilities the objects presented to me. The BRACKET wall hanging is the object that particularly appealed to me. It was very clever to revisit the classic wall hanging tool as a design object in its own right. Very far from the shelves of large DIY stores. I found that there was a real Design exploration of an object that may seem trivial. At the time I was looking for wall hanging systems for my "painting-consoles" that I wanted to make reversible. I realised this project thanks to the wall BRACKET. My (reversible) lacquered paintings on small wooden formats were ready which allowed me to release my first collection "Islands, Shapes and Spaces"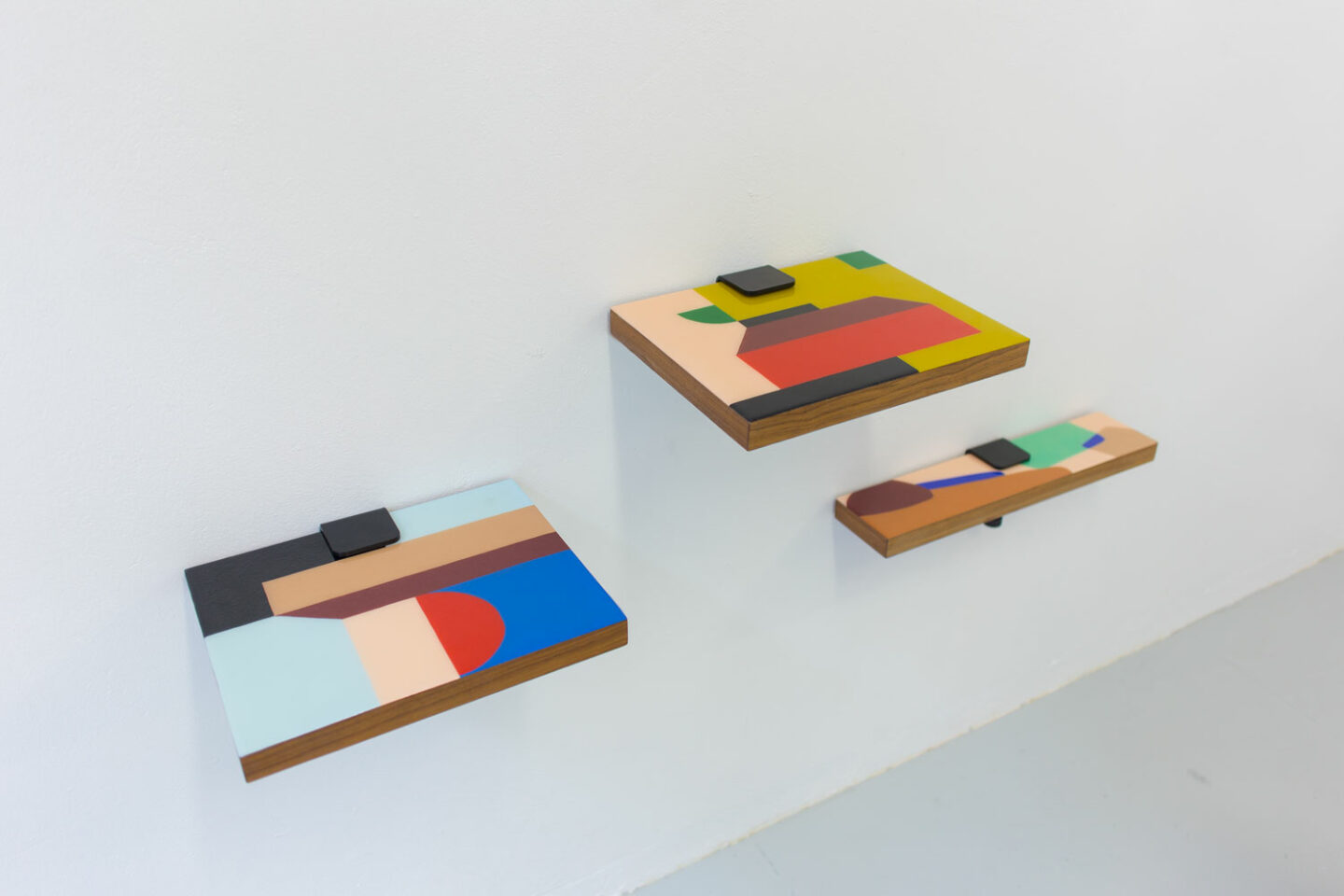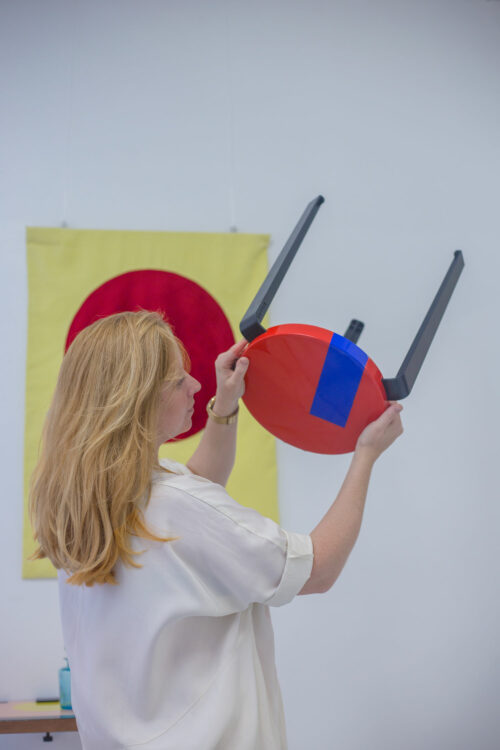 Tell us about the furniture you have just made with the brand's objects?
In line with my work on painted furniture, I proposed for this portrait the realisation of several pieces of TIPTOE furniture. I created some new paintings. I wanted the colour palette to be consistent to remain free in the graphic work – to go from geometrical compositions to those involving free forms. It was interesting to discover the set of objects, harmonising across the materials, shapes and colours as a collection. I am very pleased with the result.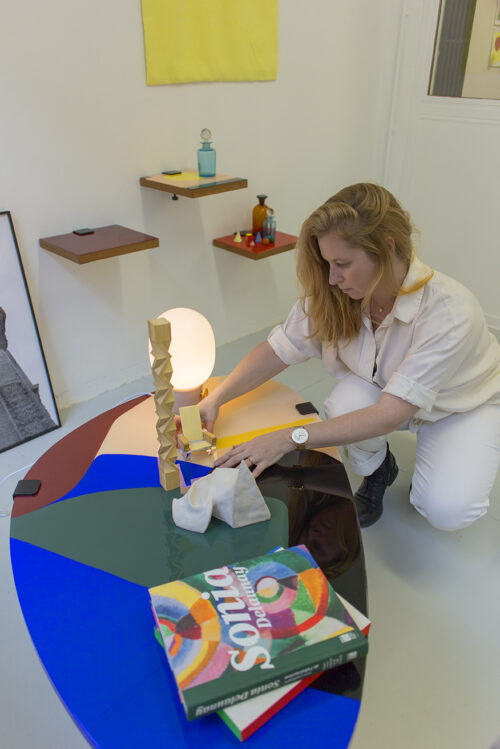 What would be the creation you would like to make with TIPTOE?
With TIPTOE, I would very much like to create a multifunctional "space-furniture" that uses the construction properties of the table legs and BRACKET wall mounts: to hold, to support, to assemble. In this way, we could divert their primary uses, make planks stand vertically like walls, attach elements to the floor or hang them from the ceiling. Somewhere between the "wall organiser" by Gio Ponti, Ettore Sottsass' installations, the small constructions of Matali Crasset, I imagine an autonomous and graphic object that would be a real architectural element in space.
Thank you, Alice Roux, for this beautiful portrait and for your creativity around the TIPTOE objects that make them unique pieces with a lot of personality. Have a look at Alice's work on her Instagram.