A decoration kids friendly
We have selected for you the most beautiful kids atmospheres created by passionate mothers. Children's room, small desk, bedside table … There is something for everyone!
photo credit : @tribeandus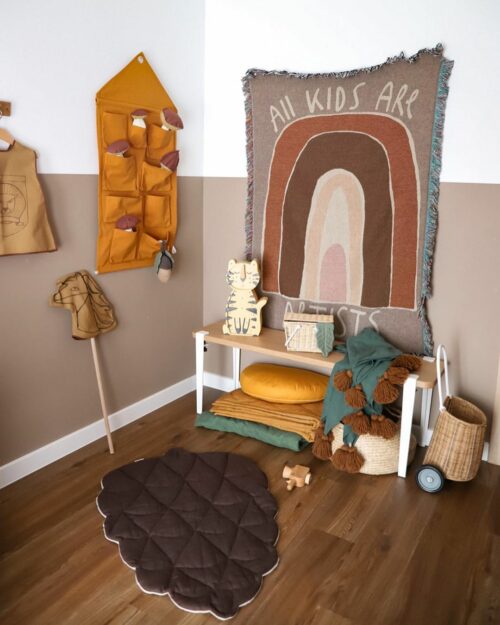 #1 Svetlana's DUKE bench
Svetlana chose the pretty DUKE bench for the bedroom of her 3 children. A practical bench to show off their most beautiful toys and put away some blankets!
photo credit: @_sveasophia_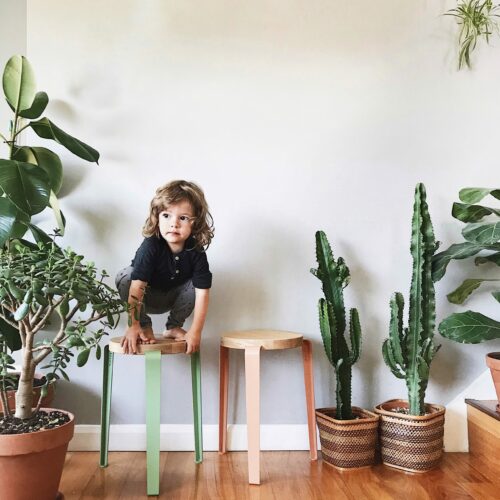 #2 Kate's LOU stools
Kate, mother of a tribe and fan of plants, loves LOU stools for their color and look that dress the room. Children can even climb on it!
photo credit : @tribeandus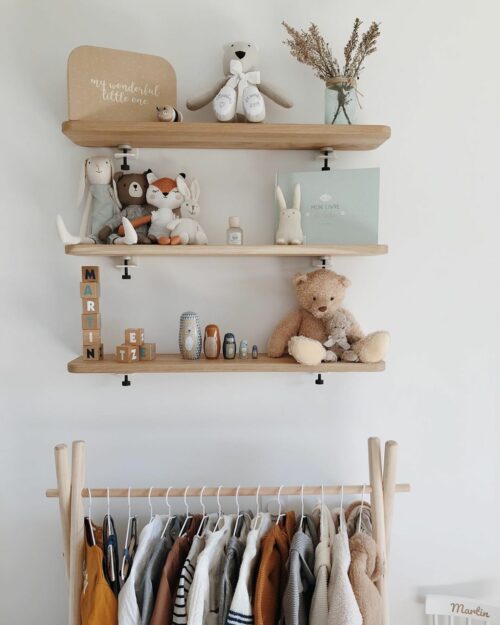 #3 Julie's bookshelf
Martin's bedroom is beautifully decorated with the bookshelf in solid oak. Thanks to their generous dimensions 90x20cm, they allow easy and refined storage for a child's room!
photo credit: @con_fession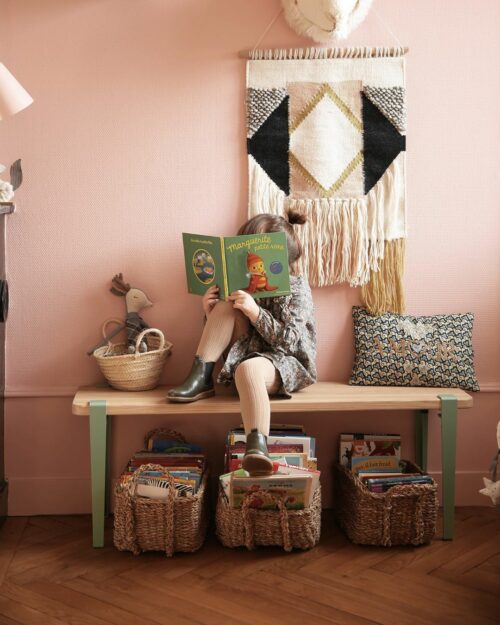 #4 Stephanie's DUKE bench
Stéphanie is a fan of color for her daughter's bedroom. She chose the DUKE bench in Olive Green for a touch of softness, perfect to read a story!
photo credit: @stephaniezwicky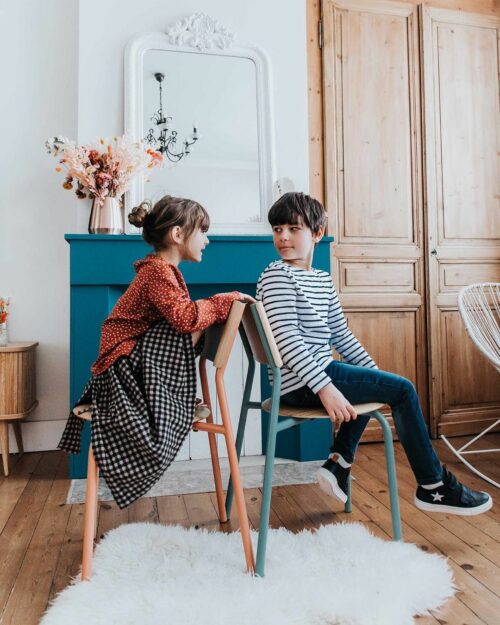 #5 Céline's SSD chairs
An Ash Rose SSD chair and another Sage Green for each of his children. The SSD chair is a solid and durable seat, perfect for each member of the family!
photo credit : @celine_audetourdunchemin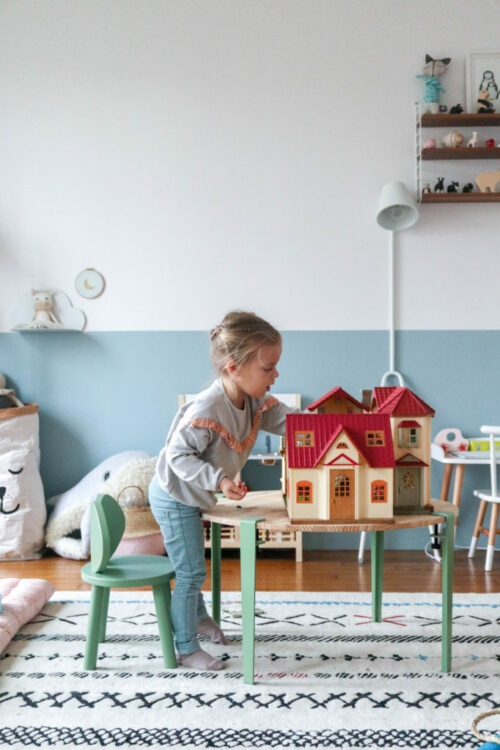 #6 Tatiana's coffee table
Tatiana transformed her coffee table with 43cm legs into a small round table to play on. Doll houses and small plates will find their place!
crédit photo : @tinypaw_paris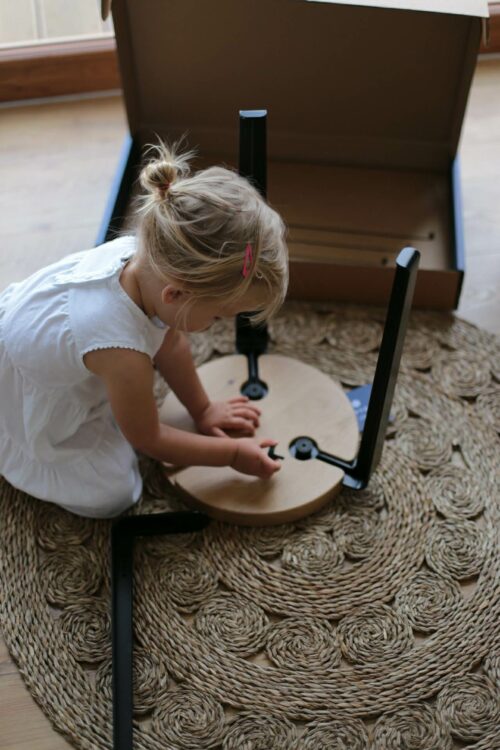 #7 Mazale's LOU stool
Assembling the LOU stool is also child's play! Very easy to assemble in 2 minutes, it will serve you in all rooms of the house.
crédit photo : @mazale_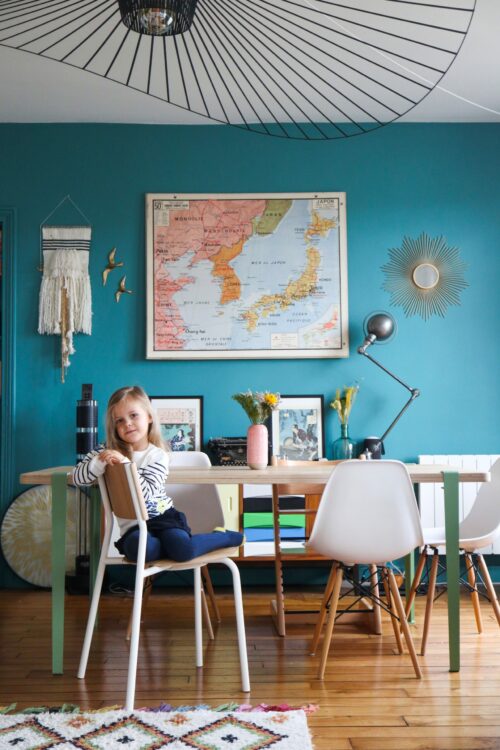 #8 Tatiana's BRIXTON table and SSD chair
Tatiana and Eva around their BRIXTON table, perfect for welcoming the whole family up to 8 people and of course the SSD chair for a comfortable seat for children and adults.
photo credit: @tinypaw_paris
#9 Mélissa's DUKE bench
In a child's room in a jungle atmosphere, Mélissa uses the DUKE bench as a small desk, ideal for children!
photo credit : @huisjekant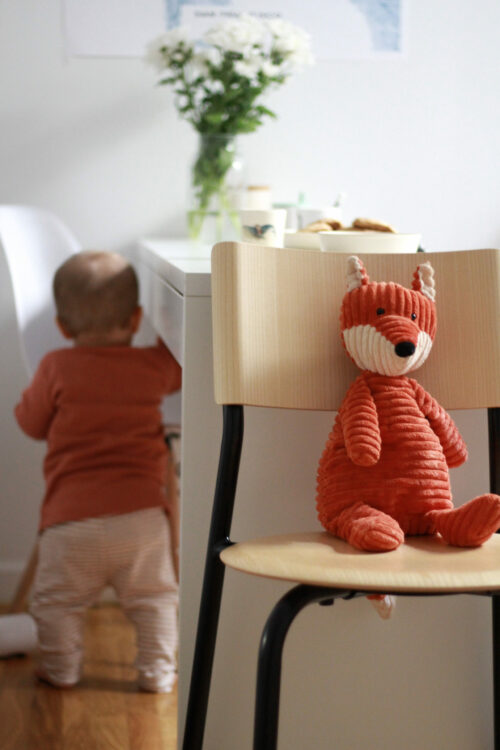 #10 Géraldine's SSD chair
Adorable this photo of Géraldine, the SSD chair with its curved back, also becomes a seat for stuffed animals!
photo credit: @beautyarchi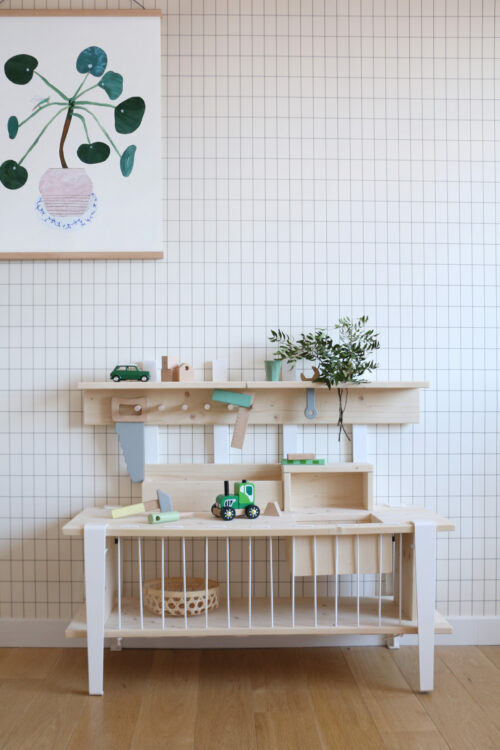 #11 Marlène's dinette
An ingenious idea from Marlène! This DIY-loving mom built a small kitchenette for her son using the 43cm legs. The result is minimalist and unique.
photo credit : @ouiouiouistudio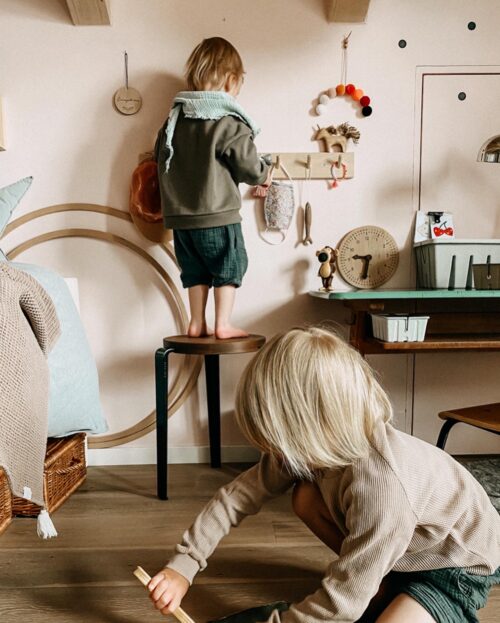 #12 Stéphanie's LOU stool
Children like to climb, hide, and the LOU stool is perfect for that! It will also serve as a seat in the dining room for a large family dinner.
photo credit : @einspluseinsistsechs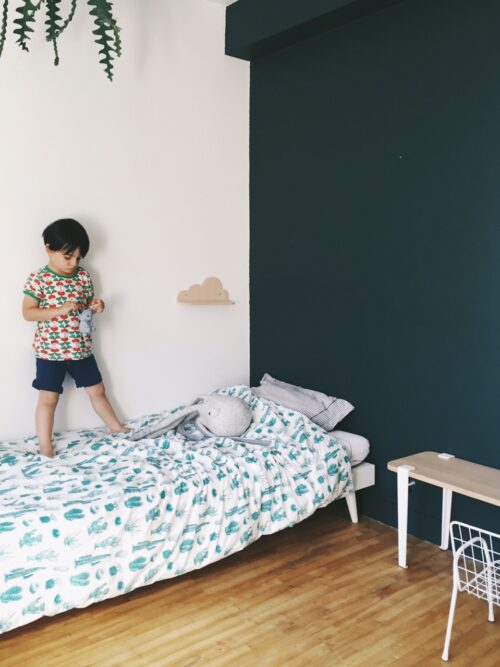 #13 Morgane's DUKE bench
The DUKE bench in Cloudy White contrasts with the intense color of the wall, for a room where we love spending time!
photo credit : @morganours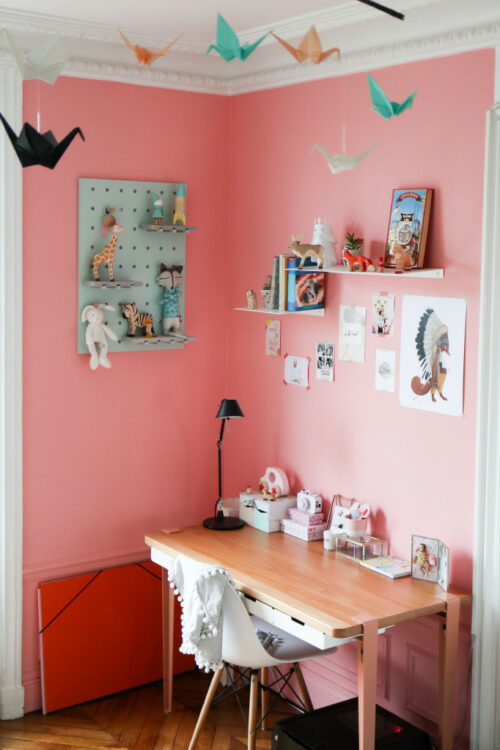 #14 Tatiana's MONOCHROME desk
The MONOCHROME desk is perfectly suited for a teenage desk. Practical with its 3 drawers, it stores its notebooks, pencils.
photo credit : @tinypaw_paris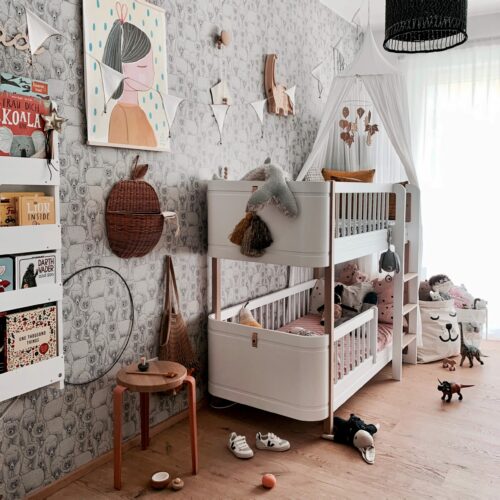 #15 Ella's LOU stool
The LOU stool in a child's room is a bedside table, a small table for playing, an additional seat, Ella has adopted it!
photo credit : @ella_and_tiny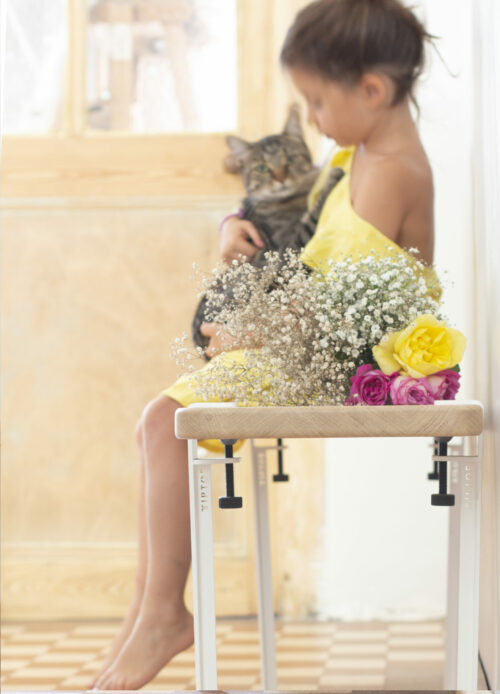 #16 Marie's DUKE bench
A rural atmosphere for Marie's DUKE bench, the whole family loves it!
photo credit: @mariemylovelything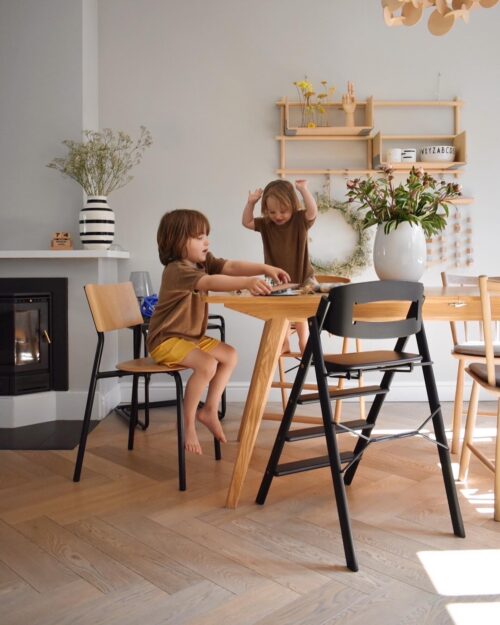 #17 Jules's SSD chair
Nothing like the SSD chair to sit well and let your imagination run with manual activities … A beautiful, solid chair to watch your children grow up with.
photo credit : @babyhitparade
#18 Susanne's LOU stool
The LOU stool with multiple uses in the child's room as in the living room. A stool on which you can climb to catch hidden toys.
photo credit : @__s.u.s.a.n.n.e__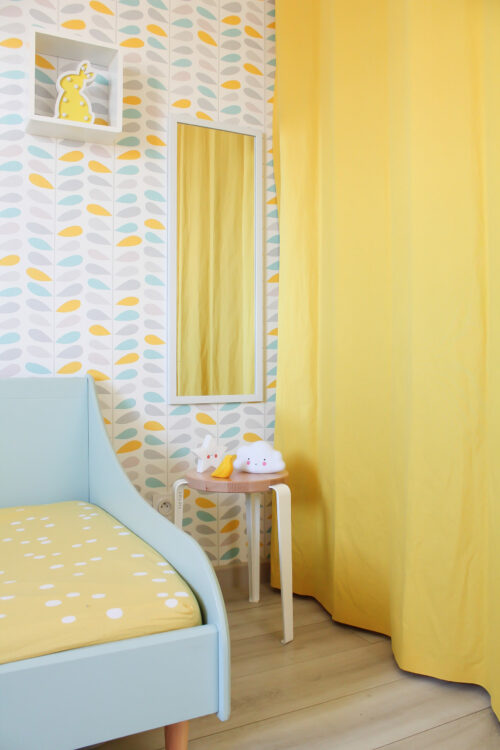 #19 Aline's LOU stool
Aline placed a few objects on the LOU stool, which fits perfectly with this tangy decoration.
photo credit: @notremaisonpour_2017
#20 Stéphane and Estelle's JO hook
Stéphane and Estelle fitted out their child's bedroom with the JO coat hook. Colorful and easy to install, it can be used as a coat rack to store the school bag or the diaper bag. A decorative and practical object!
#21 Ulli's solid oak shelf
Ulli chose the 120x20cm solid oak shelf to place a few objects and toys above the desk. Its solid oak board is PEFC certified for sustainable forest management and the wall brackets add a colorful touch.
photo credit : @uls_andthekids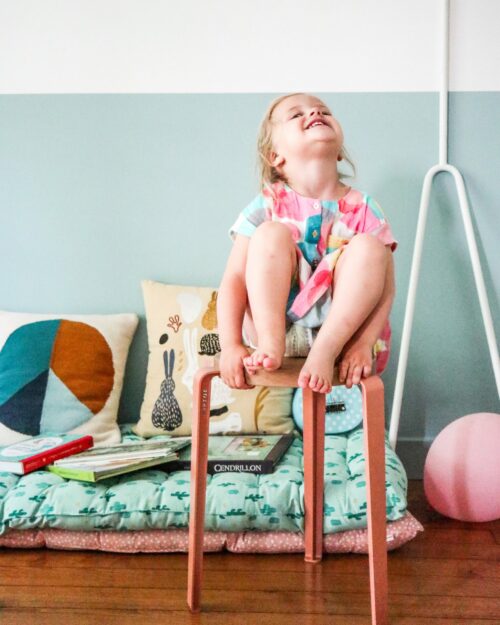 #22 Tatiana's LOU stool
The LOU stool also becomes a playmate, children love it (as much as parents!)
photo credit : @tinypaw_paris