VENEZIA recycled plastic coffee table
449,00€ /table
Dispatch within 3 weeks due to the current context
An ecologically-responsible approach
TIPTOE's mission is to make sustainable furniture, well-designed, well-made and build to last. In line with these values, we have spent several months putting together this collection of tables and shelf units in recycled plastic, designed with the future of furniture firmly in mind. There's still a long way to go, but we firmly believe that our sector, too, must align with new modes of consumption and we want, in our own small way, to start the ball rolling!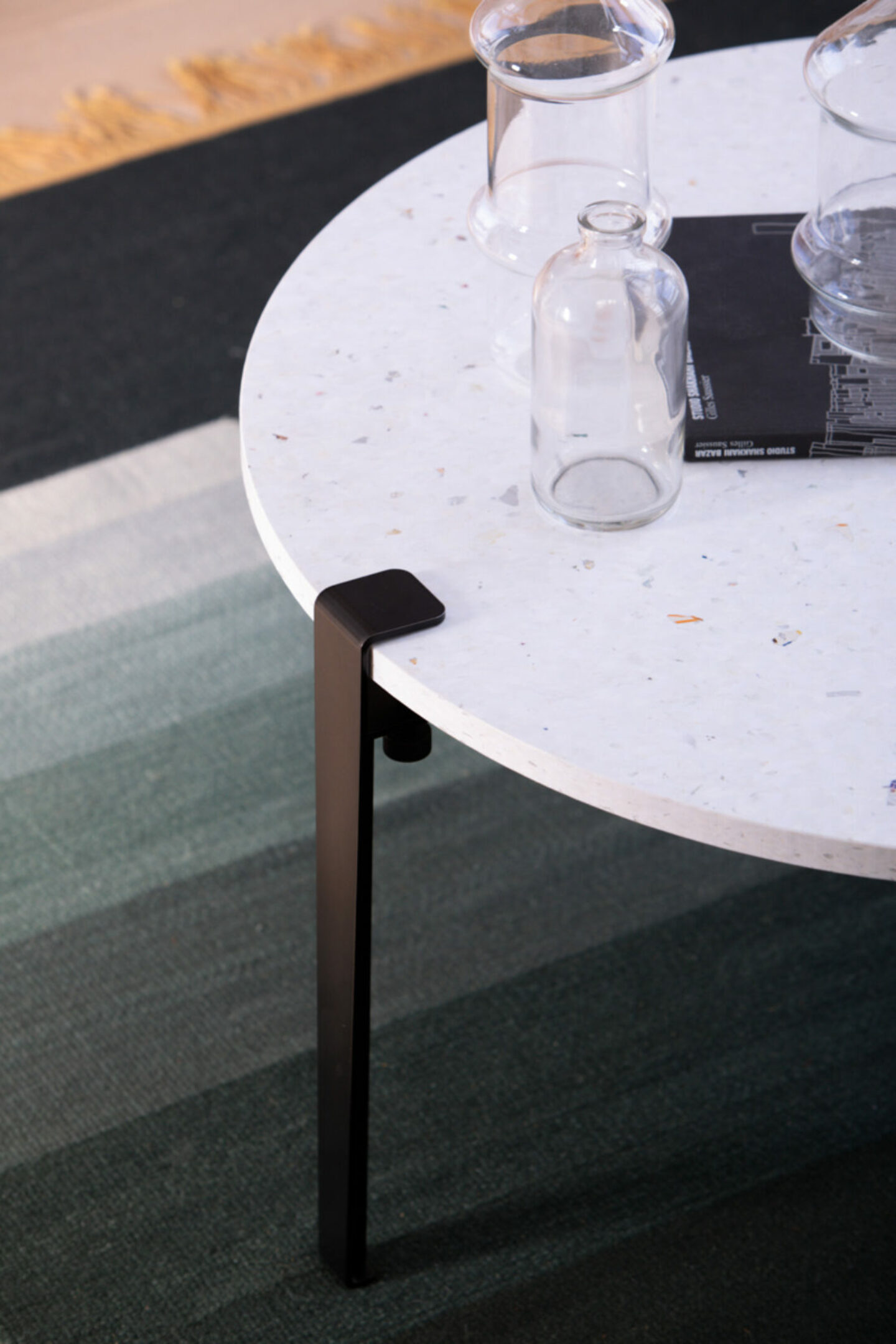 VENEZIA, color pigments and Terrazzo inspiration
Our aim is to demonstrate that it is possible to design objects in recycled plastic that combine beauty and timeless style as well as being long-lasting. The challenge we faced was to go beyond mere recycling and to create extraordinary items that make us completely forget the previous use of the plastic from which they are made!
It takes around 100 yoghurt pots to produce the top for a VENEZIA table! This explains the top's white colouring. The burst of colours, gold or silver, come from the label fragments which also give us clues about its previous incarnation! The VENEZIA is really a nod to Terrazzo, the celebrated tiles, also traditionally made from cast-offs of other bits of mineral waste. Each VENEZIA table is unique and has its own, individual history, of plastic given a second youth through recycling!
The point of this collection was to radically change the initial lifespan of the raw material. To move from a product used for an extremely short, ephemeral period of time (yoghurt pots or packaging) to a worthwhile, solid item! The tables and shelf units in our collection are long-lasting and have been designed to be useful for several generations. It's a continuous cycle: we transform existing material, which itself can be further recycled when it is no longer useful!
The tabletops of the collection are manufactured using an innovative process. The plastic waste collected is reduced to chippings and then pressed (without any binding agent) so as to form a board. They are specifically designed to fit on to table legs or our wall BRACKETS! The resulting articles are innovative and futuristic items of furniture!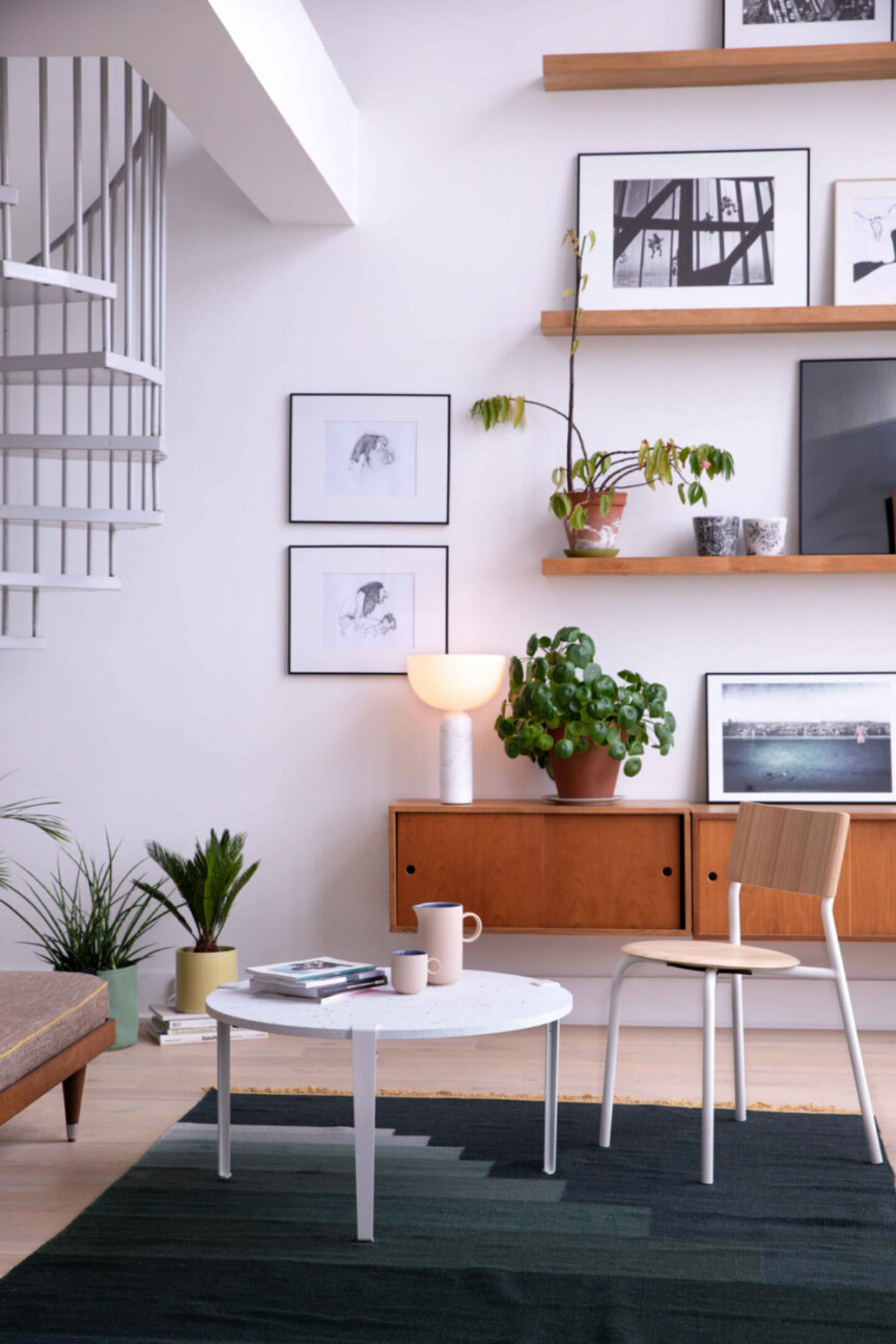 Quick and creative installation
Technical specifications
Content

3 TIPTOE legs 43cm / 1 recycled plastic white tabletop diameter 80cm / tabletop thickness 2cm

Manufacture

Produced in Europe including in France

Materials

Powder-coated steel, epoxy paint.

The tabletops are 100% recycled but also 100% recyclable.  They are manufactured using an innovative process. The plastic waste collected is reduced to chippings and then pressed (without any binding agent) so as to form a board. They are specifically designed to fit on to legs or wall BRACKETS.

Maintenance

The tabletops are 100% recycled but also 100% recyclable. It's a continuous cycle. We transform existing material, which itself can be further recycled when it is no longer useful. It's a virtuous circle.

The tabletops used in our collection are resistant to stains and to moderate heat. Recycled plastice is a noble material which requires due care. To clean your table or shelf unit, simply wipe with a soft and slightly damp cloth. They are sensitive to certain chemical substances such as solvents, thinners, descalers and strong detergents.

Spills of water, wine or soft drinks, should be cleaned up quickly.

Each board is unique, with its own colour and pattern, which adds to the collection's charm. During assembly, the boards should be handled with care. The tables are designed for indoor use.

Delivery terms and times

Delivered in 15 days in Europe

Returns terms

You have 15 days after receiving your order to return it. For returns, write to us at hello@tiptoe.fr

Patent

Internationally protected and patented design
Well-designed, well-made
and built-to-last furniture

Secure payment
(visa, mastercard, amex)

Quick delivery and easy
returns all over Europe

Any question? Looking for advice?
Drop us a line at hello@tiptoe.fr :)