What dimensions do I need for my dining room table?
Whether you are decorating your living room or putting on a feast for friends, finding the right dimensions for your dining room table can become a real headache. Between the space that you don't wish to take up and the space that everyone needs to eat comfortably, without feeling squished by their neighbours, the right compromise must be struck! If you do not know (yet) which table length to choose for your new dining room set, TIPTOE has some useful tips for you!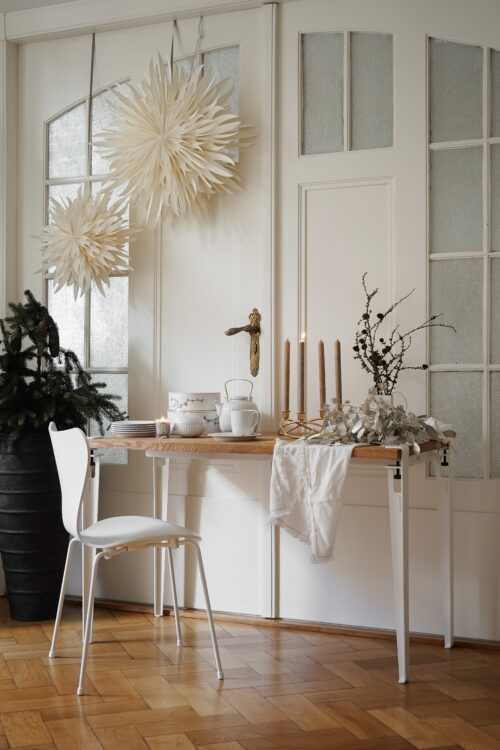 How to determine the table size that's right for you?
When furnishing your dining room, you must take into account the size of your room. Take a break in your reading here and measure its dimensions.
For the comfort of everyone's legs, and to be able to cross them without bruising them up, we recommend a height of 75 cm between the table top and the floor. 
Anticipate the movements of your guests: they will sit down and get up from the table. The chairs should not be flush with the wall. Add 60 cm in length and width around each chair.
Discover our dining tables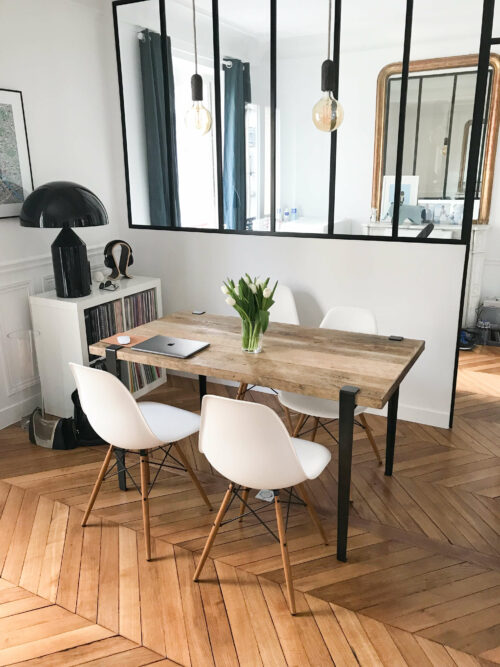 A dining table for 2 to 4 persons in a small space
If your dining room is small and saving on space is important to you, choose the LOBO dining table from TIPTOE. Its small size of 120 x 60 cm makes it ideal for small dining rooms and kitchens with limited space. This designer table comes in different types of wood, including recycled old wood, which could lend a lot of charm to your interior.
The TIPTOE table legs are thin and slender, so no risk of them getting in the way of your guests!
LOBO dining table in reclaimed wood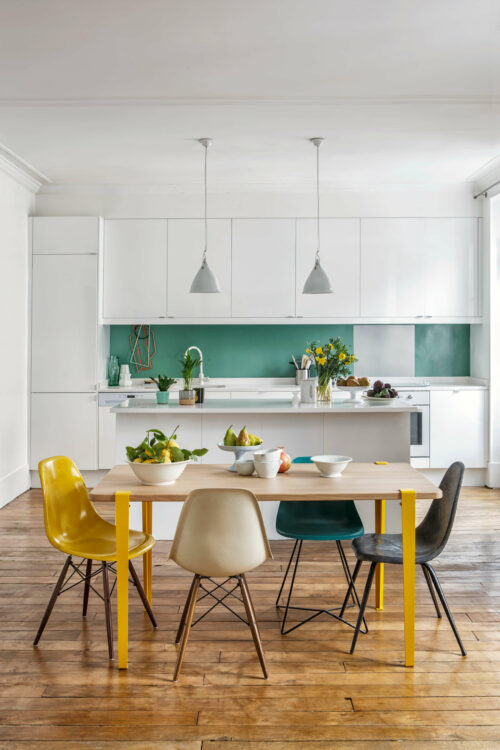 What dimensions should I choose for the rectangular tables for 6 persons?
There is not really a rectangular table size that will go with every home and every piece of furniture. You have to take into account the space you have and the space you need at the table to make the right choice for you.
The ideal size of a 6-person table depends on how your guests are seated. If three people sit opposite each other, choose a table that is 180 x 90 cm long. If you place one guest at each end of the table and the other four are spread over the length, you would prefer a table length of 150 cm and a width of between 75 and 90 cm.
Discover all our dining tables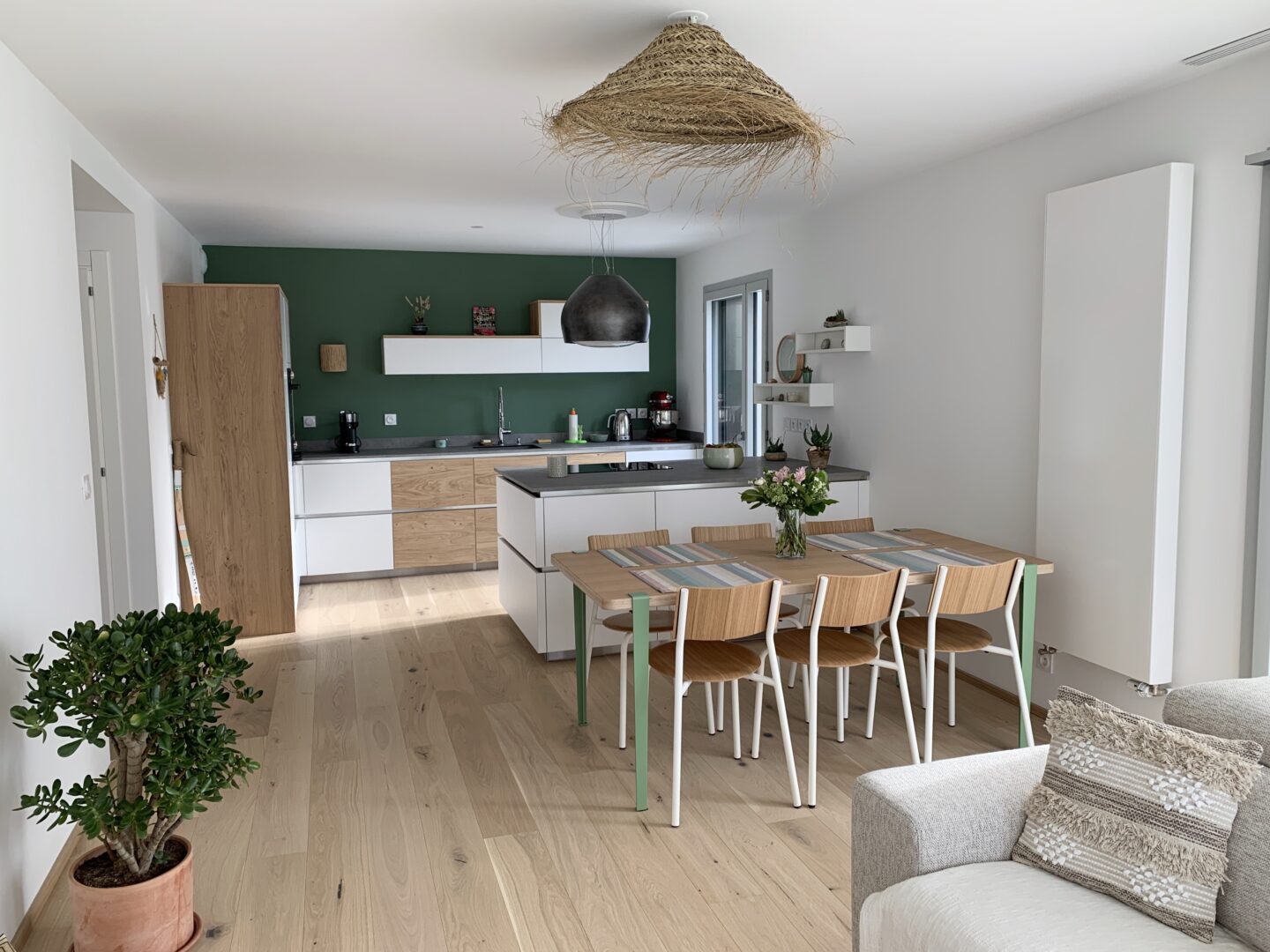 Dining tables for 6 people TIPTOE
The Balthazar dining table, also meant for 4 to 6 people, has a length of 150 cm and a width of 75 cm. It is perfect for the daily meals of the whole family. Its wooden top comes in two models: oak with a solid wood heart or recycled old wood. Something that will delight your guests before they sit down to eat!
The BRIXTON table will also welcome your meals and all your guests. Its generous dimensions, 180 x 90 cm, make this dining room table a must-have for large families and large groups of friends!
BALTHAZAR dining table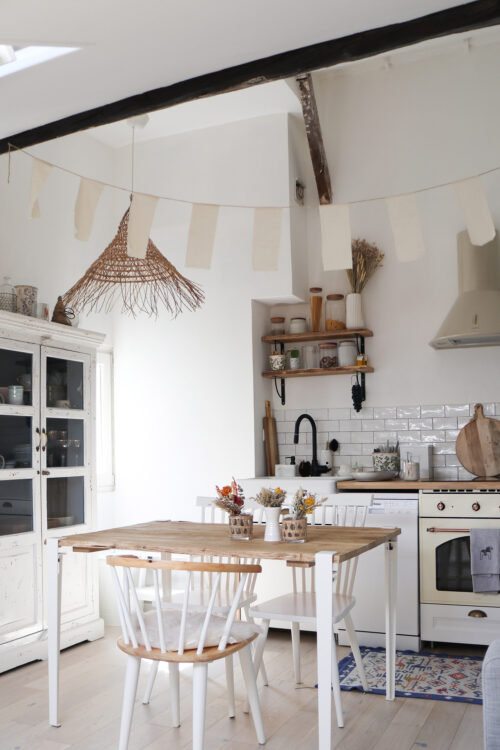 What dimensions for a square table for 8 people?
A large rectangle is not the only format for a dining table! With 8 guests, the square format of your future dining table will also be great for sharing and having some friendly conversations. You will place two guests at each of the four sides. Plan for a table width of at least 120 cm. 
Your wooden dining table and its metal legs will transform a simple table into a real eco-friendly piece of furniture. TIPTOE proves to you that it is possible to combine aesthetics, practicality and good conscience, all with ideal dimensions!
If you would like a dining table for 8 people at TIPTOE, choose the BRIXTON dining table with its generous dimensions.
BRIXTON dining table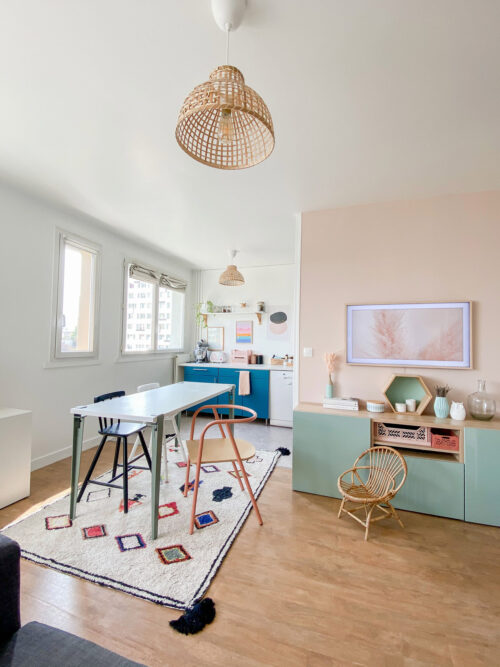 What are the dimensions of a 12-person table?
Again, the size of your dining room table depends on how you arrange your guests around it. A rectangular table will lend itself more easily to this exercise than a square table. 
You can opt for a symmetrical placement, with six guests on each side, facing each other. If you choose this configuration, you will need to get hold a table top that is 360 cm long and at least 75 cm wide. If you prefer to go for greater discretion, place two guests at each end of the table, and the other eight in two rows of four. You can then save on the length of your rectangular dining table and go for one that is "only" 240 cm. The width will be greater as well, with a measurement of 120 cm.
A custom-made table with our table legs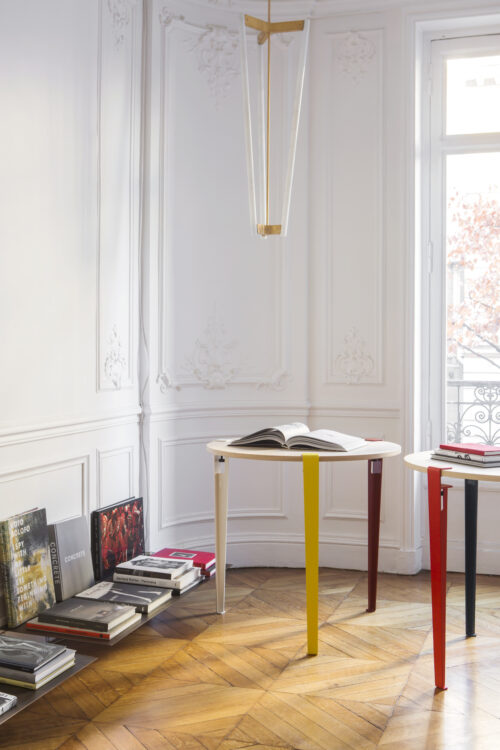 What dimensions should a round table have?
Round dining tables are often the most welcoming. They are pleasing for  families with an odd number of persons: none of them will have to eat alone at one end of the table.
A standard round table typically has a diameter of 120 cm. At that size, you can easily seat 6. If there are 8 of you, go for a larger diameter of 150 cm.
Creating a round table with the TIPTOE leg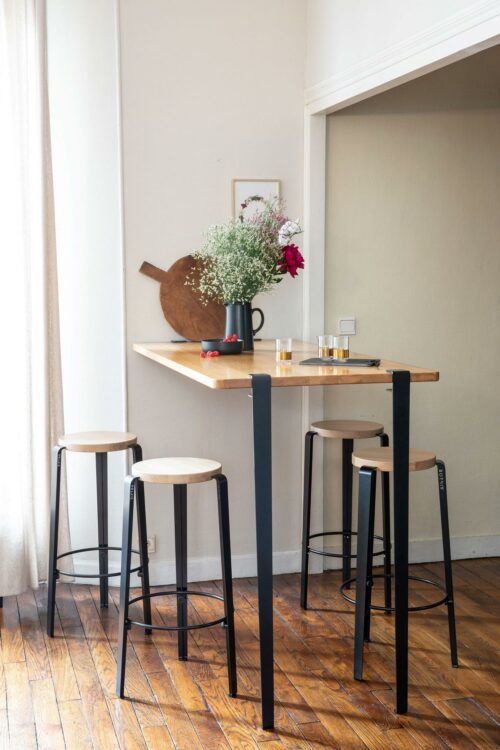 Would you rather have a wall table, a bar or a high table?
The TIPTOE wall table will allow you to save space thanks to its complete and ready-to-install system: 2 wall mounts and 2 table legs 75cm. Choose the size of your oak top as a function of the space you have.
Do you like sit high when eating?
TIPTOE's wall-mounted high table may be just the thing for you. Its height of 90 cm is ideal for eating on the go. You will find it in two versions: 120 x 60 cm for 2 to 4 people, and 150 x 75 cm for 4 to 6 guests. This table can be used as a kitchen table in small spaces. The wall-mounted high table can also be used as an extra countertop for cooking. 
The TIPTOE bar table with a height of 110 cm is also available in those two dimensions and allows you to create a standing snack table or bar that sets your kitchen apart from your living room.
Discover all our high tables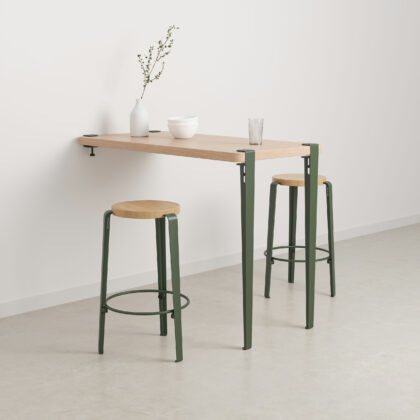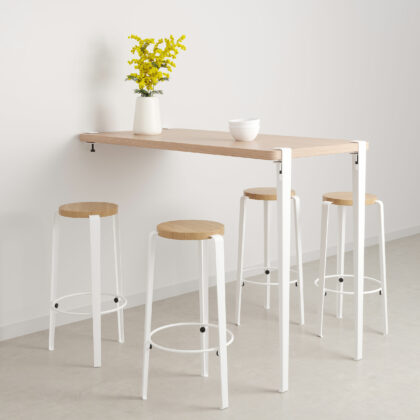 Solutions for a personalised table with TIPTOE
For maximum personalisation of your space, you can opt for the TIPTOE 75-cm table legs and their wall mounts. This system has several advantages:
– You can have the table top size of your choice, and then adapt the configuration for your dining room and/or for the number of guests;
– The table is attached to the wall, which means that the wall attachments "replace" one set of table legs, thereby saving you a bit more space;
– You get a design dinner table that is one of a kind, and that will definitely catch the eyes of your guests! 
– For the same configuration but as a high table, opt for the 90 cm legs and the 110 cm legs for a bar.
Discover all our table legs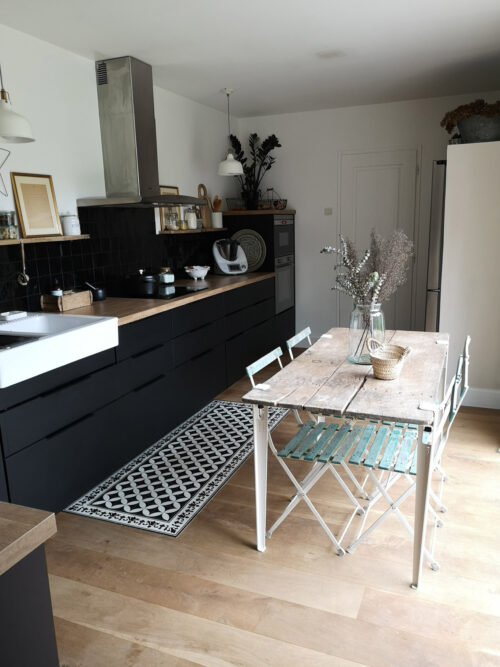 A custom-made dining table with the TIPTOE table leg
With the TIPTOE table leg for custom-made tables, you can create a square or round table. Your dining table will welcome all your guests whatever its shape. Very trendy, this model of metal legs will give character to your wooden table. The 75 cm table legs will allow you to create a custom-made dining table, adapted to your space whether it is small, large or rather atypical. All you have to do is choose your table top and the colour of the TIPTOE legs. You can also use the TIPTOE legs for a round table!
TIPTOE table leg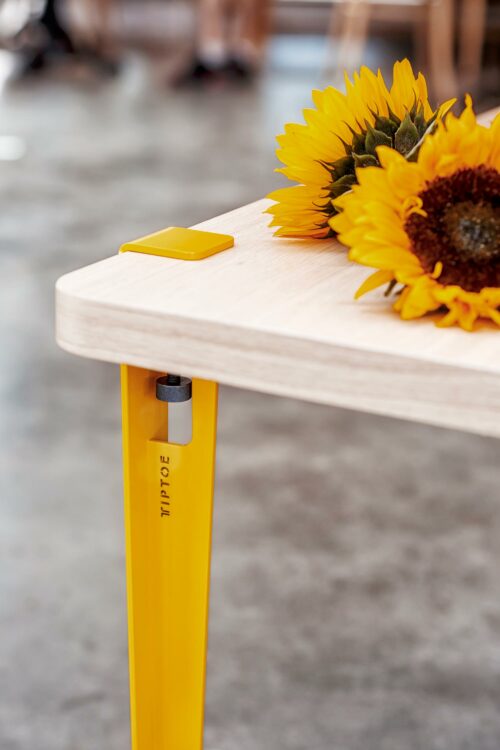 What thickness of tabletop for your dining table?
To choose your table top, follow our recommendations to obtain optimal results with TIPTOE legs: 
– For a tabletop with a maximum diameter of 150 cm and height of 75 cm, go for a thickness between 30 and 40mm 
– For table top dimensions between 150x75cm and 190x90cm, choose a thickness of 40mm
– For a large table over 2 meters across, opt for a thickness of 40mm and add 2 extra legs per meter
We do not recommend that you use glass, marble or any brittle material with our TIPTOE table legs.
Now, at end of this article, you should be able to choose the right size kitchen or living room table for your home. The most important thing is that you feel comfortable every day around your wooden dining table, and that your guests have enough space to cut their vegetables without elbowing one of their neighbours in the eye! Still unsure? TIPTOE experts are here to answer all your questions!